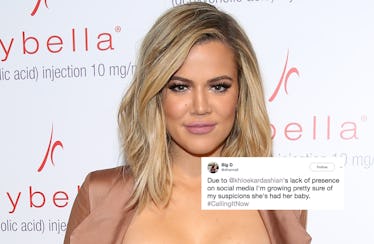 Khloé K Shut Down Rumors About Giving Birth Already, So We're Still On Baby Watch – UPDATE
Happy Monday, everyone! Do you know what this new week brings? New Kardashian pregnancy conspiracy theories! This one is pretty tame compared to the one that claimed Kylie Jenner was Kim Kardashian and Kanye West's surrogate, but it's still a theory. Fans have been led to believe that Khloé Kardashian's due date was in March, so did Khloé Kardashian give birth? According to the reality star herself, no.
UPDATE: On Thursday, April 12, TMZ reported Khloé Kardashian gave birth to her baby girl. According to the report, Kardashian was joined by Tristan Thompson, Kim and Kourtney Kardashian, Kris Jenner, and Malika Haqq in Ohio for the birth.
EARLIER: Fans on Twitter have been wondering why we haven't heard any birth news about Khloé Kardashian and Tristan Thompson's baby, seeing as she said she was eight months pregnant when she was on her Tokyo vacation with Kim and Kourtney Kardashian in February. Lots of babies arrive after their due dates though, so it's possible that's what's going on here with Koko's baby girl. Fans have noticed Kardashian has been posting on social media a lot less than she usually does, however, and they were taking that as a clue she had already given birth.
One fan tweeted on April 8, "Due to @khloekardashian's lack of presence on social media I'm growing pretty sure of my suspicions she's had her baby. #CallingItNow." Seems legit enough, right? If she has already given birth, those first days afterward are precious. She'd likely not be posting a lot because she's spending time with her daughter.
But Kardashian debunked this fan's theory right quick by responding to the user's tweet saying, "I wish you were right."
Dang. Another theory busted.
Before this tweet silenced all the rumors, fans were theorizing that Khloé Kardashian already gave birth and has been waiting to tell the world.
Kardashian's making it pretty clear on her Twitter that she's still pregnant. On April 8, she tweeted at Andy Cohen about the Real Housewives of Atlanta reunion saying, "This RHOA Reunion is just too good! Thank you @Andy."
A fan responded saying she could appear on Cohen's Watch What Happens Live. Kardashian tweeted back, "The only thing that's keeping me away is that I'm about to give birth lol the only thing."
Andy Cohen quoted that tweet saying she's welcome to the show whenever she likes, and he also took his own stab at guessing the baby's name. (Spoiler alert: He guessed his own name.)
He tweeted, "#MyFaveKard has an OPEN invite! Ps can't wait to meet baby Andy! (That's the name right?)," to which Kardashian jokingly responded, "I mean, I was going to surprise you but you guessed her name."
Other than not revealing the name or the official due date of her and Thompson's baby girl, Kardashian has been candid about her pregnancy ever since confirming it in December of 2017. She posts on her app about the baby all the time, and her Twitter and Instagram have helped her document her first pregnancy as well. She recently posted to her app about the contents of her hospital bag, and of course she says it's filled with a bunch of comfy clothes for her and the baby, as well as her laptop, chargers, her favorite blanket, a camera, and lots of other things. Homegirl is prepared!
On April 6, she posted about her food aversions during her pregnancy, revealing that she's pretty much been a vegetarian for the last nine months. Her post said,
Before pregnancy, I really only ate chicken or turkey — no pork, red meat, most fish, lamb, etc. But now, I find meat absolutely disgusting, LOL. Just the sight of it makes me nauseous. So, I've become somewhat of a vegetarian during pregnancy, but not by choice.
She continued,
Now that I'm nearing the end of my pregnancy, it doesn't repulse me as much anymore. I wonder how I'll feel about meat after I give birth!
She also posted about her choice to give birth in Cleveland, where Tristan Thompson lives. The post explained,
Throughout my pregnancy, I traveled back and forth between L.A. and Cleveland quite a bit, but after a while, it was a little difficult. It was more tiring and my body got swollen, which never used to happen before pregnancy. I obviously love both cities, but I will say I'm happy to be in Cleveland right now.
Based on Kardashian's posts to her app, Twitter, and Instagram, it looks like baby watch is definitely still on. Sorry 'bout your theories!