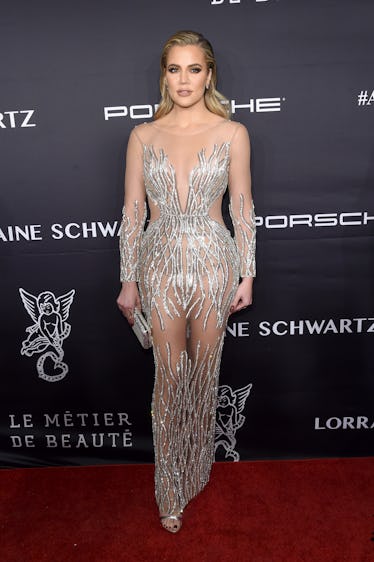 Khloé Kardashian Revealed The One Food She's Been "Repulsed" By During Her Pregnancy
Jamie McCarthy/Getty Images Entertainment/Getty Images
We're officially on baby watch for Khloé Kardashian, and I, for one, am beyond pumped. Kardashian has blessed us with so many details about her pregnancy, and she's not done quite yet. On a recent blog post, Khloé Kardashian revealed her pregnancy food aversions, and it's not as surprising as you might think.
According to Kardashian, she's never been a huge meat-eater, but after being pregnant, she straight-up can't stand the idea of meat. On her blog, she said,
Before pregnancy, I really only ate chicken or turkey — no pork, red meat, most fish, lamb, etc. But now, I find meat absolutely disgusting, LOL. Just the sight of it makes me nauseous. So, I've become somewhat of a vegetarian during pregnancy, but not by choice.
However, she goes on to say that as she's gearing up to give birth, she's not as appalled by the thought of consuming meat:
Now that I'm nearing the end of my pregnancy, it doesn't repulse me as much anymore. I wonder how I'll feel about meat after I give birth!
I can only hope that I develop an aversion to Doritos and ice cream when I decide to have a baby. Chances are small, but a girl can dream, right?
As you may or may not know (but if you don't know, then are you even a Kardashian fan?), on April 3, Kardashian shared a message on her app to her fans about the difficulties of traveling between Los Angeles and Cleveland (where Tristan Thompson lives). Ultimately, she decided to move and give birth in Cleveland, and her words about the big change were so, so sweet. She said,
Throughout my pregnancy, I traveled back and forth between L.A. and Cleveland quite a bit, but after a while, it was a little difficult. It was more tiring and my body got swollen, which never used to happen before pregnancy. I obviously love both cities, but I will say I'm happy to be in Cleveland right now.
She continued,
...I'm with Tristan and I get my home time — cooking, being with my love, and just more of a routine. In L.A., I'm SWAMPED with work. But then again, I love being in L.A. because I get to see my sisters and my mom, and I have my trainer and the people that I've grown up with. So there are perks to both cities for me!
But what about her family? Will the Kardashians be there when Khloé gives birth? Fear not, friends. A source told People, "She is doing great and seems very happy every day. Her family is flying to Cleveland when it's baby time. Khloé especially wants Kris there for the birth," the source says.
Duh, who wouldn't want Kris Jenner by their side, cheering them on and taking unnecessary photos?
"[Khloé] is a bit nervous about the birth, but mostly excited. She is taking it easy in Cleveland, getting everything ready and she can't wait to meet her baby girl," the source added.
So, what's our girl Khloé doing to pass the time before her little one arrives? Kardashian wrote on her app that she's taking long walks and binge-watching television shows.
"It's the final stretch of my pregnancy," Kardashian wrote on April 4. "Day by day, it gets harder and I get more impatient — not to mention more uncomfortable. So, while we wait, I have to stay busy. I'm not the type to lay around all day and be lazy (when I do, I get a little crazy)."
I'm sorry, but I'm not following. Laying around all day and doing nothing sounds like actual heaven.
"In Cleveland, we have a very similar routine every day," Kardashian continued. "Every day, I go for a 45 minute walk (I'd actually call it more of a stroll, LOL). Tristan and I have also been watching Billions. It's such an incredible show — we LOVE it! We just finished Season One. It's such a good show to binge-watch."
So, if you feel like being more like Khloé Kardashian, just lay off the hamburgers and lay on the couch watching a show you're addicted to.
Khloé tested, Khloé approved.