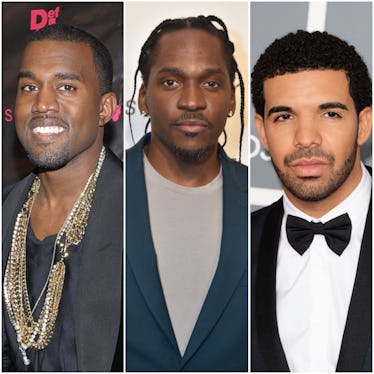 Kanye West Just Revealed Whether Or Not He Told Pusha T About Drake's Baby
Michael Loccisano/Theo Wargo/Jason Merritt/Getty Images Entertainment/Getty Images
Looks like Kanye West's gotten himself into a little more drama, and it involves two pretty big names in the rap world. There's been a hearty dose of hip-hop beef between Drake and Pusha T that came to a head back in May 2018, when Pusha T released a song called "The Story Of Adidon," a track that suggested Drake was hiding the fact that he had a child with a woman named Sophia Brussaux. Drake all but confirmed those rumors, mentioning that he has a son throughout the lyrics from his newest album, Scorpion — though it should be noted that he has yet to confirm the speculation in any official capacity. Elite Daily reached out to Drake's team for confirmation, but did not hear back by the time of publication. We were then left wondering where exactly Pusha T got this tea from. There was some ~gossip~ going around town that it was West who told Pusha T about Drake's rumored secret child, but now, Kanye West's response to rumors definitely suggests otherwise.
During West's interview with radio station 107.5 WGCI Chicago on Wednesday, Aug. 28, he spoke about many things, like addressing and apologizing for his slavery comments, his mental health struggles, and his relationship with fashion designer Don C. But he also opened up about his role in the feud between Drake and Pusha T.
West insists he was not the one who told Pusha T that Drake reportedly had a child that he was hiding from the public. In response to the question, the "Lift Yourself" rapper said, "No, I didn't. Don't pull me into this conversation. I'm 'Ye. I got major things to do other than be telling him some information about Drake … I honestly don't care that much, in all honesty."
He also added that, despite the drama, he and Drake will work together again in the future. "We all got love for Drake ... We'll reconcile that one day because we got to," West said, adding, "We got work to do because these voices are just too powerful."
If you've made it this far into the story without fully knowing about the Pusha T and Drake beef, let me recap it for ya:
Though their feud has existed for many years (we're talking around the year 2006), it was mostly centered around their music, and both have taken shots at each other within their songs. Most notable were Pusha T's songs "H.G.T.V." and "Infrared," which both called Drake out for reportedly using a ghostwriter for his lyrics, which, of course, only worsened their issues with each other.
Drake fired back soon after with his own diss track called "Duppy Freestyle," where he references working with Kanye West — Pusha T's producer. In the song, Drake raps:
So if you rebuke me for workin' with someone else on a couple of verses / what do you really think of the [man] that's makin' your beats? / I've done things for him I thought that he never would need / Father had to stretch his hands out and get it from me
I know, I know. There's a lot to take in with this back-and-forth, but bear with me.
According to Esquire, Pusha T then "invited" Drake to invoice him for all of the work he did with West — to which Drake posted on Instagram, showing a fake invoice for $100,000 to Pusha T's label, G.O.O.D. Music/Def Jam.
It was because of this that Pusha T released the song "The Story Of Adidon", in which he accused Drake of hiding a child. Elite Daily reached out to Drake's lawyers and Pusha T's team regarding this claim but did not hear back by the time of publication.
In the song, Pusha T raps:
Sophie knows better, ask your baby mother. / Cleaned her up for IG, but the stench is on her. / A baby's involved, it's deeper than rap. / We talkin' character, let me keep with the facts. / You are hiding a child, let that boy come home / Deadbeat motherf**cker playin' border patrol, ooh / Adinon is your son / And he deserves more than an Adidas press run, that's real / Love that baby, respect that girl / Forget she's a porn star, let her be your world
Of course, we all know by now that if Drake's lyrics are anything to go by, he hasn't exactly shut down Pusha T's claims. For instance, in his song "Emotionless," Drake raps:
Look at the way we live / I wasn't hiding my kid from the world/ I was hiding the world from my kid / From empty souls who just wake up and looked to debate / Until you starin' at your seed, you can never relate
And Drake's song, "March 14," begins:
Yesterday morning was crazy, I had to come to terms with the fact that it's not a maybe / That sh*t is in stone, sealed and signed / She not my lover like Billie Jean, but the kid is mine
So it's pretty clear that Drake isn't exactly denying anything, but he's yet to come forward to confirm the reports that he does have a son. Whatever ends up happening, though, Yeezy clearly doesn't want to have any part in it.
Looks like this is something that we just have to wait and see how it all pans out. Stay tuned, fam.