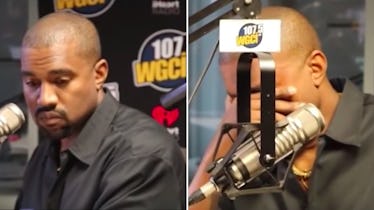 Kanye West Cried During A Lengthy Apology For Those Slavery Comments In A New Interview
youtube
It can be incredibly difficult to love an artist's music, but not love everything the artist says or stands for. A big example for me personally is Kanye West. I love his music, and his albums are always on point, but man does he say some controversial things that make me cringe. The most recent issue was when Kanye visited TMZ headquarters in May and discussed his views on slavery, which did *not* go over well with... well, pretty much anyone. But now, a new interview shows Kanye in a totally different light, and this video of Kanye West crying while apologizing for his comments is actually super emotional.
Let's first backtrack to May 1, when Kanye made the comments on slavery in the first place alongside TMZ host Harvey Levin. Things got heated when the subject of slavery came up and Kanye said, "When you hear about slavery for 400 years. For 400 years?! That sounds like a choice." He continued, adding, "Like, you was there for 400 years and it's all of y'all!?" Elite Daily reached out to West's team for clarification on his comments, but did not hear back by the time of publication.
One employee in particular, Van Lathan, stood up to Kanye, telling the rapper that he was "disappointed, appalled ... and unbelievably hurt" by his remarks, and those sentiments have been echoed by many, many fans since.
It was pretty difficult to watch the whole situation pan out, and in all honesty, Kanye didn't exactly do his best to explain what he meant with that particular statement when given the opportunity in the months that followed.
He tried, though. In a June interview with The New York Times, Kanye defended himself by clarifying that the whole thing was taken out of context. "I said the idea of sitting in something for 400 years sounds — sounds — like a choice to me, I never said it's a choice," Kanye said, adding, "I never said slavery itself — like being shackled in chains — was a choice."
It seemed like somewhat of a backhanded apology, and not many took it as Kanye denying any wrongdoing. But now, he has finally offered up a tearful apology for his words, and it's actually pretty moving.
During a visit to 107.5 WGCI Chicago on Wednesday, Aug. 28, Kanye finally addressed his slavery comments and opened up about his bipolar diagnosis, telling people that he's not "blaming mental health" for his actions, but rather, trying to explain what it's like. He said,
I don't know if I properly apologized for how the slavery comment made people feel. I'm sorry for the one-two effect of the MAGA hat into the slave comment, and I'm sorry for people that felt let down by that moment. And I appreciate you giving me the opportunity to talk to you about the way I was thinking and what I was going through.
He continued, weaving in the fact that his erratic behavior was due to his mental health struggles. "The thing about being called crazy, the biggest stigma that has to be broken is that you instantly get written off," he said.
"Also, what I wanna say to everyone listening right now — I have never really approached or addressed the slavery comment fully. And it's not something for me to overly intellectualize," he said, adding, "This is something about the fact that it hurt people's feelings and the way that I presented that piece of information. I could present in a way, more calm way, but I was ramped up. And I apologize. That happens sometimes when people are—I'm not blaming mental health, but I'm explaining mental health."
Later, Kanye became emotional as he explained how much he's come to depend on friends who truly care about his wellbeing, like his longtime friend, designer Don C.
"Don C is not around as much and the people that are around or starting to make money just didn't care about me as much as Don C did because we, like, we moved [to] Kanye West as like an entity, a money-making machine," Kanye shared. "You get into that situation and you don't have people who are continuously looking out for your best interests at all costs. I even had people that was with me at TMZ that could have stopped it. The downfall of Kanye West is directly related to Don C not being around." It's at this point where Kanye actually had to fight back tears. "[Don C] is actually in town right now because I told him I need him to be there so sh*t like this don't happen to me."
You can watch his tearful apology below, but be warned: It's truly an emotional watch.
Kanye also thanked his fans for "riding with him" through the process, and promised that the world would "see a new Ye" rise up from this situation.
Kanye West's comments about slavery will never be OK — but finally owning up to his words, and, most importantly, apologizing for them, is definitely a start.