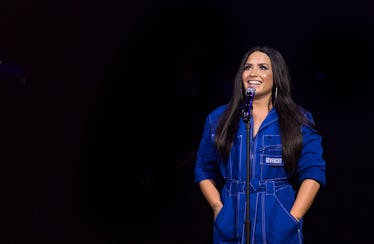 Demi Lovato Asks Herself This One Question When People Body-Shame Her & It's Everything
Christopher Polk/Getty Images Entertainment/Getty Images
It can't be easy to live in the public eye, especially in a time when anyone with an internet connection can comment anonymously about everything you do. And if you're a woman in the spotlight, this often means being scrutinized for what you look like, no matter how talented you are or how positive your message is for your fans. Demi Lovato is one such woman in the public eye dealing with this BS, and she's been outspoken not just about the realities of this scrutiny, but about promoting body positivity, too. At this point, Demi Lovato's response to body-shamers isn't even a clap-back; it's just a simple question she poses to herself: "Am I happy?" And, if you ask me, when it comes to your relationship with your body, that's all that should really matter at the end of the day, right?
In a recent interview with People, the 25-year-old singer admitted she still deals with body-shamers from time to time, but ever since she began making body positivity a priority in her life, she told the news outlet she now "feels great" and "a lot more free." This continued journey of creating a positive relationship with her body started in a big way back in January 2018, when Lovato announced via Twitter that she'd given up dieting for good.
"I had been on a really strict, regimented diet for so many years, and it felt like I didn't have a lot of freedom with food," Lovato told People.
The "Sorry Not Sorry" singer explained that one of her biggest goals has been to rediscover that freedom, and to release herself from the restrictions of dieting. She told People,
[Dieting] would cause me to overindulge whenever I did get the opportunity, and I just felt like it was an unhealthy behavior. I just thought to myself, why am I doing this? I'd rather live in freedom from any eating disordered behaviors or thoughts, and so I decided to just let myself enjoy certain things without feeling guilt or shame.
Lovato also told the news outlet that she feels it's especially important to share her experience with having an eating disorder with her fans and followers, "because there are so many people in the world who feel pressured by society and the diet culture," and she strives to be someone who can teach people that "you don't have to force yourself to lose weight, or to look a certain way." Amen, Demi.
Of course, ignoring diet culture and body-shamers is often easier said than done, but for Lovato, it all comes down to asking herself one simple question.
Thankfully, Lovato told People, the "Confident" singer has received mostly positive feedback in response to her tweet back in January about quitting dieting, but again, she still encounters the occasional body-shamer. As for how she deals with those toxic people, she told the magazine,
There are some people who body shame me, and sometimes it's difficult, but I say to myself, am I happy? and that's the most important thing. And I want my fans to be happy too.
She added that, ultimately, it's key for her to learn how to maintain a sense of balance in all areas of her life:
Balance is so important, and it kind of represents my life today and where I'm at right now. Moderation is key, and I work really hard but it's important to stay active and take time for yourself, and take that time off.
Basically, Lovato wants you to know that, if you find yourself dealing with these same issues, the only thing that matters at the end of the day is whether or not YOU are happy.
If nothing else, Lovato's message here is that it doesn't matter what you look like, how much money you have, or how many people know your name or the lyrics to your songs. Anyone in any position in life can struggle with having a good relationship with their body. It's not an easy battle, but as Lovato said, the best thing you can do is ask yourself what makes you feel confident, beautiful, and most importantly, happy. Thank you, Demi, for teaching us that important lesson.