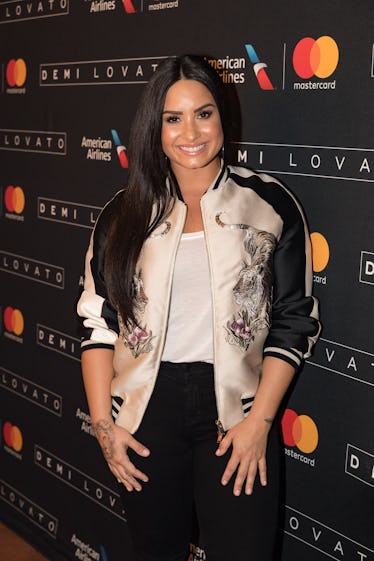 Demi Lovato's Quotes About Quitting Dieting Are Something We Should All Read
Christopher Polk/Getty Images Entertainment/Getty Images
Demi Lovato has struggled with an eating disorder since she was very young, and she's been so open about it with her fans. She's a role model to millions of girls, and she's always been a star who seems to take that responsibility very seriously by keeping things real. In her recent YouTube documentary, Simply Complicated, she even admitted she had a bingeing and purging relapse last summer. But now, the 25-year-old "Sorry Not Sorry" singer is back on a healthier path. Demi Lovato's quotes about quitting dieting are something we should all read.
"It's a daily battle," she told People. "Some days I feel great and some days I don't feel great. And sometimes it's periods of times. I stopped dieting and have gained a little weight so it's been a struggle, but at the same time, I'm happier because I'm not restricting myself from certain foods and I'm no longer food shaming myself."
First of all, I think Lovato looks amazing. But a-freaking-men, woman! How amazing is it to hear a celebrity with such a big platform speak so candidly about a topic a lot of women choose to keep private? I am so here for that kind of openness and honesty. Plus, I can totally get behind the pop star's message about just enjoying your life. It's such an important message and I'm so happy Demi is so honest with her fans. Keep doing what you're doing, girl!
Meanwhile, the singer tweeted a similarly empowering message out to her fans a few weeks ago. "No longer depriving myself of treats (in moderation) and I'm not gonna lie, I put on a couple lbs since I've given up dieting," she wrote. "BUT I've given up the chronic stress of what I eat because I don't want to set that example for my fans. No more food shaming myself!!"
See what I mean about her owning her responsibility as a role model? Lovato also admitted in another tweet to feeling "gross" at a recent photo shoot, but then chose to shower herself in acceptance and simply love herself for who she is, instead of beating herself up about it.
All the feels!
"As someone recovering from a food disorder it's something that I want to put out there that you don't have to diet in order to be happy," she explained to People. "It's really important that there's somebody out there to speak up and say, 'Hey your weight doesn't define your self-worth and it definitely doesn't define your beauty inside and out.'"
She's so right — and all of her Lovatics were vibing on the inspirational message over on Twitter.
Feeling the love.... Keep building each other up, guys!
And here's the best part about all of this: Lovato — who recently launched her third capsule collection for Fabletics, and who credits Brazilian jiu-jitsu for keeping her head right — isn't just kicking back and sending out random tweets. The "Confident" singer also practices what she preaches. She announced back in late January that she will offer free therapy sessions during her 2018 Tell Me You Love Me tour, which will be open to ticket-holders in all 20 cities on the tour who have mental health and wellness issues.
"It's important that I use my voice for more than just signing," Lovato told Robin Roberts on GMA. "I just know how important it is to... share my story in hopes that it inspires people to get into recovery or better themselves. Whatever it is, I just want people to know that they're not alone."
What an amazing human! Stay strong, lady!