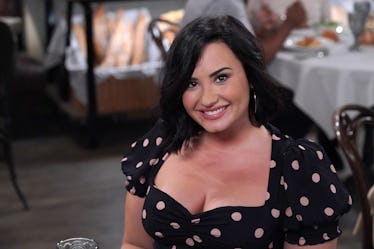 Demi Lovato Says Raya Gave Her A Sign She's Supposed To Be Single
NBC/NBCUniversal/Getty Images
Raya is a notoriously exclusive dating app that caters to the famous and influential — but don't think celebrities can use it whenever they'd like. Demi Lovato was on Raya in the past, deleted the app during a relationship, and discovered she was locked out of her account when she tried to download it again, she explained to Harper's Bazaar for her May 2020 cover story. While some might have tried to call Raya's tech support team, Lovato accepted the lockout as a sign she's supposed to be on her own.
"I just deleted [Raya] out of respect to the person I was with, then we broke up and I went to get back on," she told the reporter in the interview published on April 14. "And I was like, 'You know what? It's fine. I don't need to be on this because I think I'm supposed to be alone right now.'"
The singer dated longtime friend Austin Wilson from November to December 2019 and has been rumored to be dating actor Max Ehrich since March 2020, but imagines any number of possibilities for love life. "When I imagine my life in the future, I don't say, 'I'm looking for a man who I want to have two or three kids with,'" she explained. "I think it could be so much fun to share children with a woman … So I don't know what my future will look like, and I'm open to anything."
As far as what kind of person Lovato sees herself winding up with, she says she likes all sorts. "People always ask me, 'What's your type?' And I'm like, 'Have you seen my history?' There is no type. It is solely off connection. I wish I could say, 'I only date attractive people.' But I don't," she said with a laugh.
Any fan of Lavato's knows her last high profile relationship was with Wilmer Valderrama, who she was with on and off for six years. On New Years Day 2020, Valderrama announced he's engaged to model Amanda Pacheco. "I'm really happy for him and I wish him nothing but the best, but we're not in each other's lives, haven't spoken in a long time," Lovato said of her ex. "But I think I needed that because I needed to learn to be okay on my own. When you get into a relationship with somebody at that young of an age and then you spend six years with somebody, you don't really get to learn about yourself."
Luckily, it seems as though Lovato has learned a lot about herself and, thanks to Raya, is now focused on making the most of her independence.