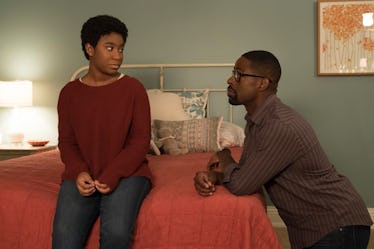 Deja Will Be A 'This Is Us' Season 3 Regular, So Stock Up On Tissues Now
NBC
On Season 2 of This Is Us, foster child Deja was seemingly happier with Randall and Beth's family than with her mother, but when Shauna suddenly left her behind with the Pearsons, Deja descended into a funk for the rest of the season. When we last saw her, Deja was smashing Randall's car windshield while the rest of the family toasted newlyweds Toby and Kate, but we'll have plenty of time to understand her reaction. Deja will be a This Is Us Season 3 regular, so get ready for more heartbreaking moments between her and Randall.
TVLine reported that Lyric Ross, a relative newcomer to TV before playing Deja, has been promoted to a series regular for This Is Us's upcoming third season. The news comes soon after Melanie Liburd became a regular for her role as Beth's cousin Zoe. In the season finale, Zoe tried to comfort Deja about her absent mother and told her about her similar experiences, but Deja refused to lighten up, leading to her destructive behavior later on. Now that both women are series regulars, maybe we can expect to see even more conflicting encounters between them in Season 3.
Deja is also at the center of speculation about Randall's flash-forward scene, in which he and a grown Tess discuss that it's time to "go see her." Although some fans have suggested that the "her" is Beth or even Annie, the strongest theory points to Deja being the mystery woman, as Tess asks Beth at the wedding where Deja is and has a special bond with her. Taking a darker turn, certain viewers have even wondered if, in the future, Deja is in prison for hurting Beth. Clearly, Season 2's Crock-Pot scene completely destroyed people's abilities to trust in creator Dan Fogelman for producing a believable future on This Is Us.
While the latest series regulars are within the Pearson clan, announced guest stars are included in both the past and present storylines. Michael Angarano will play Jack's brother Nicky, exploring the truth about the brothers' experience in the Vietnam War, while Malcolm in the Middle star Jane Kaczmarek has been announced to play a professor and scientist whose timeline is unknown. Daredevil actor Rob Morgan is also set to appear in the present-day story as a city councilman interacting with Randall.
We can expect Deja to now stay with the Pearsons for the foreseeable future and inevitably face the consequences of her anger spinning out of control. Although Season 2 ended on a slightly ominous note when it came to Randall's storyline, the show's creative team has promised that the new season will embrace a lighter tone, as co-showrunner Elizabeth Berger said at the Television Critics Association summer press tour, "We felt like at the end of Season 2, our family had grieved and processed [Jack's death]. This is a hopeful season and a season about true new beginnings for everybody."
Although things ought to be rough at first for Deja in Season 3, maybe we can interpret Berger's hint of "new beginnings" as hope for Deja's journey. Let's hope Randall helps her get back on track for her goal of "big house, fancy car." Season 3 of This Is Us premieres on Tuesday, Sept. 25, at 9 p.m. ET on NBC.