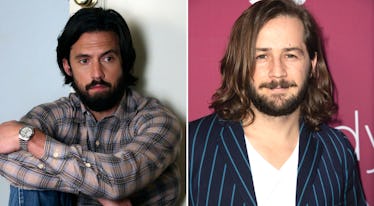 'This Is Us' Just Cast A Major Character For Season 3 That Fans Have Been Asking About
NBC, Earl Gibson III/Getty Images
We may have seen Jack Pearson die last season on This Is Us, but the time-jumping family drama is not done with Jack's story yet. The upcoming third season of This Is Us is poised to explore Jack's still largely unspoken-about stint in the military during the Vietnam War, which will include our first real look at Jack's relationship with his younger brother Nicky. And now we know what Nicky Pearson will look like: This Is Us cast Michael Angarano as Jack's brother Nicky, the series just revealed, and it looks clearer than ever that Season 3 will focus largely on what happened to Nicky Pearson.
This Is Us showrunner Dan Fogelman and star Milo Ventimiglia have previously revealed that Nicky will likely be a major part of Season 3, and this casting announcement seems to confirm that. The new season will include extended flashbacks to Jack and Nicky Pearson's time serving in the army during the Vietnam War, much of the details of which have not been revealed on the show yet. Partway through Season 2, fans found out that Jack had a younger brother as we saw him pull out an old photo of himself and Nicky in Vietnam, implying that Nicky died in combat. Another flashback revealed that Jack was something of a father figure to Nicky when they both were children, since their father was an often-absent alcoholic.
The Season 2 finale ended with Jack's son Kevin boarding a plane to Vietnam, hoping to discover more about his late father's life. A number of fans of the show have guessed that Jack's time in Vietnam may have left him with PTSD, which may have led to his alcoholism. We will be learning a whole lot more about Jack's background as Kevin explores Vietnam in the new season. The series has even hired the renowned Vietnam journalist and author Tim O'Brien as a consultant on the season, which should tell fans just how much of a focus Vietnam will be.
Michael Angarano has actually worked with his new on-screen brother Milo Ventimiglia before. The two actors costarred in the 2015 Jason Statham action flick Wild Card. But fans will likely best recognize Angarano from his starring role in Disney's 2005 superhero flick Sky High, or for his recurring role as Jack's son Elliot on Will & Grace. Angarano took to Twitter to express his (and his grandma's) excitement over this casting news.
Of course, for This Is Us fans, Michael Angarano's casting means that we will finally be learning about Jack Pearson's mysterious younger brother Nicky. The revelation that Jack even had a brother came as a shock during the show's second season, and immediately raised questions about why we had never heard Jack mention Nicky. Along with exploring how Jack's time in the military affected his later life, Season 3 will also illuminate how his relationship with his brother made him the Jack Pearson we all know from later time periods in the show's timeline.
Season 3 of This Is Us will premiere on NBC on Sept. 25, 2018