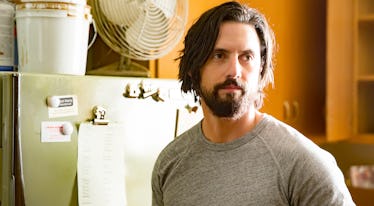 Jack's Brother Will Return To 'This Is Us' & We Still Have So Much To Learn
NBC
This Is Us fans are still reeling from that game-changing post-Super Bowl episode that aired on Sunday night, but the show must go on. Although NBC's hit family drama finally revealed how Pearson patriarch Jack died, the deceased dad will continue to be a major part of the show. And now, Milo Ventimiglia is revealing what Jack's story will look like in the upcoming episodes of This Is Us, following that big death. In a new interview with Esquire, Ventimiglia teases that Jack's brother Nicky will return on This Is Us, and we will learn a lot more about his tumultuous upbringing and his time in the Vietnam War.
Sunday night's special episode of This Is Us, which aired directly after Super Bowl LII, finally revealed to fans how Jack Pearson died. The episode started with the Pearson house up in flames after a faulty crockpot sparked up in the kitchen. Jack manages to save his family, but then runs back into the fire to save Kate's dog and her singing tape. To viewers' relief, Jack actually makes it out of the house fire alive... but things take a turn for the worse when he arrives at the hospital. A doctor tells Rebecca that all the smoke Jack inhaled during his rescue mission triggered a cardiac arrest, and he died in the hospital room while she was getting a candy bar from the vending machine.
The reveal was heartbreaking for fans, but one little silver lining is that although we saw Jack Pearson die, that does not mean we've seen the last of him on This Is Us. Milo Ventimiglia promised fans that they would continue to see Jack on the show in future episodes, which makes sense since flashbacks to stories before Jack's death are already a trademark device in the series. So now that the mystery of how he died is solved, what can we expect to see next from Jack Pearson? Ventimiglia says that we will learn more about Jack's upbringing, his time in Vietnam, and most of all, his brother Nicky:
There are so many questions with Jack. His upbringing, what happened to him in Vietnam, what happened to him after Vietnam before he met Rebecca? And those early days of Jack and Rebecca, I know is an era that Dan is excited to explore. His brother, I think is something that's going to come up relatively quickly, and play out over the next season or so. There's still so much to know about this man, from all the eras, so I'm excited to focus on how Jack lived as opposed to worrying about how he died.
This Is Us fans only recently learned that Jack had a brother named Nicky who served in the Vietnam War with him. A quick flashback in a recent episode gave us our only look at Nicky, who presumably died while fighting in Vietnam. Clearly, Jack did not like to talk about his dead brother. We know that he had a really bad upbringing due to an alcoholic father, and Jack seemed to have stepped in as kind of a surrogate caretaker for Nicky when they were kids. But aside from that, and one photo of Jack and Nicky in the army that we see him look at, that's all we know about Nicky Pearson.
It sounds like we are quickly coming up on an episode that will flashback to Jack and Nicky's time together, either as children or around the time they were dispatched to fight in the Vietnam War. So yep... I guess we are going to be crying through yet another Pearson death very soon.