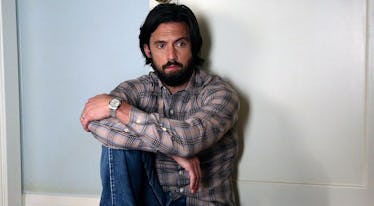 You May Not Have To Say Goodbye To Jack Forever On 'This Is Us,' So Don't Cry Too Hard
NBC
This Is Us finally gave fans the soul-crushing episode that we've been waiting almost a year and a half for. After Super Bowl LII on Sunday night, NBC hit viewers in the emotional jugular with the most heartbreaking episode of This Is Us yet, and finally revealed how the family patriarch Jack Pearson really died. But the question remains: Now that we've seen him die, will Jack be on This Is Us following his death in upcoming episodes? Thankfully, Milo Ventimiglia has good news for fans who are not ready to say goodbye to Jack yet.
Before the new episode aired, Milo Ventimiglia told Entertainment Weekly that although we see Jack Pearson die, it does not mean that he is off the show. Ventimiglia teased that there is still a whole lot more of Jack's story left to tell, and that he will still appear on the show to help tell it as it goes forward.
After all, time jumps are par for the course on This Is Us, so revisiting a dead character in the past is nothing new for the family drama. Here's the full statement that Ventimiglia gave, which should at least partially cheer up every devastated This Is Us fan right now:
I really think people are going to have a hard time accepting it, but what they should know is that even when we do find out Jack's death, it doesn't mean that Jack goes away. That's a good thing to remind people of — I'm not going away from the show, Jack is still around. There is still so much story to mine in this world of This Is Us.
He also tweeted some more reassurance after the episode aired:
As long as Jack stays away from crockpots and dogs, we should be good. Ventimiglia's statement also makes it sound like This Is Us fans are going to see some time jumps to periods in the Pearson family's lives that we may not have seen before. For the most part, we have really only seen the Pearsons when the Big Three were newly born, around age 10, and then in their later teenage years when Jack died. With more flashbacks that include Jack, we may be seeing interesting new eras in the Pearson family history.
That would definitely fit in with the big reveal at the very end of Sunday night's new episode, which concluded with a shocking scene of Randall and Tess in the future as older people. This is the first time that This Is Us has taken us into the future, beyond what is considered the present-day storyline in which the Big Three are in their thirties. It looks like we aren't only going to get a lot more interesting flashback scenes, but also some flash-forward scenes for the first time. Take a closer look at future Randall in the tweet that Sterling K. Brown posted of himself in age makeup below:
But of course, the biggest part of Sunday night's special post-Super Bowl episode was the reveal that fans have been waiting for since the very first episode of This Is Us aired almost a year and a half ago. That's right — we finally know how Jack died. As we knew before, the Pearson house went up in flames due to a faulty slow-cooker on Super Bowl night. With the house consumed in fire, Jack rescued Rebecca, Randall, and Kate (Kevin was off hanging out with Sophie at the time), but then realized that Kate's dog was still caught in the fire. Jack went back in to save the dog and also some pieces of family memorabilia, including Kate's audition tape, and actually wound up making it out alive.
But, the death came only a short time later. Jack was taken to the hospital, where doctors were worried about the amounts of smoke he inhaled in the fire. At first, it seemed that he would be fine, but in the end, we learn that excessive smoke inhalation triggered a heart attack in Jack, and he died.
Yes, it was a tragic cap to an otherwise exciting Super Bowl night, but hopefully this news that Jack Pearson will still show up on This Is Us can help fans cope with the grief.