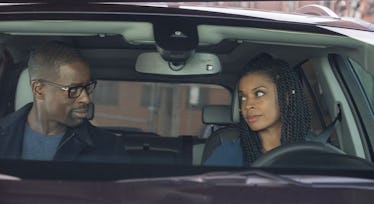 A 'This Is Us' Character Just Got Moved To Series Regular, So Here's What It Could Mean
NBC
Despite their own conflicts with each other, the Pearsons on This Is Us are a tight-knit clan, and as Toby and Beth will tell you, that family is a tough one to assimilate into. A beloved, deceased dad and triplets with varying levels of closeness to each other will build quite the wall for romantic partners to break down. But for an extended family member, her transition into a full-fledged Pearson may be smoother than Toby and Beth's were back in the day. Beth's cousin on This Is Us is a series regular now, and the casting decision hugely foreshadows what's ahead for the new character Zoe.
Raised like a sister to Beth and called an aunt by Tess and Annie, Zoe (Melanie Liburd) first appeared in the Season 2 This Is Us finale to photograph Kate and Toby's wedding. Zoe grew up with Beth's family after her own mother abandoned her, allowing her to connect with a struggling, moping Deja about their similar experiences. Her attempts to be the wise, relatable mentor didn't exactly sit well with Deja, but by the end of the episode, the show proved Zoe would find her place in the story elsewhere.
In Kevin's flash-forward, she was revealed as his seatmate on his flight to Vietnam, and the two were undeniably cozy with each other. In the present day, Zoe also complimented Kevin on his wedding speech, suggesting that her gesture leads to them becoming interested in each other on, or soon after, Kate and Toby's big day.
Now with just about a month until the show's third season premieres, TVLine reports that Liburd has been promoted to a series regular for the upcoming year. The news means that we can expect to see far more of Zoe than we may have originally anticipated, and most importantly, it hints that she and Kevin develop a serious relationship very quickly. The Season 2 finale didn't clarify how far in the future Kevin and Zoe's Vietnam trip was, but seeing as the This Is Us team has confirmed that Jack's past in Vietnam is explored this season, it looks like they'll jet off together sooner rather than later.
Following the finale, co-showrunner Isaac Berger spoke to The Hollywood Reporter about Zoe and Kevin's potential together, saying:
When we come back, we're going to be embarking on a new chapter with them sort of discovering their romance, and their relationship, and figuring out what they are. We can expect to see her for a while.
After Kevin's original romantic storyline became a matter of Olivia vs. Sloane and his relationship with ex-wife Sophie was an early Season 2 theme, his connection to Zoe comes as a sweet, unexpected twist to the family dynamic. We all know Beth has a love-hate relationship with Kevin, and her finding out that he's sweet on her cousin ought to inspire an interesting reaction. There's no word on whether the new season will explore Kevin's marriage to Sophie and when they tied the knot, but seeing those early days play out alongside a budding relationship with Zoe would provide a whole new side of Kevin. Justin Hartley has to earn that elusive Emmy nomination somehow!
Of course, before we get too excited, we have to remember that Alexandra Breckenridge, aka Sophie, was also promoted to a series regular last summer. Soon after the announcement, Breckenridge revealed she was pregnant, which seems to have altered the show's plans for Kevin and Sophie's reconnection. The last we saw of Sophie in the episode "That'll Be The Day," she was bidding Kevin a sad farewell, so there doesn't seem to be a chance of the angry ex-wife returning to foil Kevin's new relationship. After feeling dangerously-immersed in his past throughout Season 2, Kevin could probably use a fresh start with someone new like Zoe.
Season 3 of This Is Us premieres on Tuesday, Sept. 25 at 9 p.m. ET on NBC.