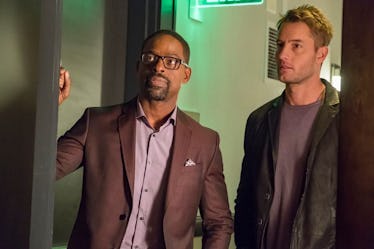 A Mysterious, New 'This Is Us' Character Was Just Added To Season 3
NBC
The scoop about Season 3 of This Is Us seems never-ending in this home stretch of time until the season premiere on Sept. 25. Creator Dan Fogelman has teased a surprise twist about William in new episodes, while cast members have promised the exploration of Jack's Vietnam War experience and the early days of his relationship with Rebecca. In an unexpected move, This Is Us has announced an upcoming guest star, but we know close to nothing about the new character we'll soon meet. This Is Us Season 3 cast Jane Kaczmarek in a new guest role, but her character is a total mystery. So, what can we expect from this addition?
Entertainment Weekly first reported that former Malcolm in the Middle star Kaczmarek will guest star in an upcoming episode of This Is Us. The seven-time Emmy nominee plays a "a liberal university professor and scientist who is described as intelligent, warm, and down-to-earth," but sources haven't spilled about how the character's storyline intertwines with the Pearsons. The news of Kaczmarek's casting comes soon after the show announced that actor Michael Angarano would play Jack's brother in Season 3, but while we know that Nicky Pearson is limited to a storyline set in the past, there's now the question of when in time we meet Kaczmarek's character.
Thinking about which This Is Us character would logically meet with a professor, a possible theory is that Kaczmarek is one of Randall's teachers when he begins college. In Season 2, we saw Jack and Randall tour the historically black Howard University in the late '90s after Jack had encouraged Randall to apply to Harvard. Despite that heartwarming storyline, we still don't know where Randall went to college, and he stayed near or at home with Kate and Rebecca for at least the first year after Jack's death. Based on the siblings' memories of that time period, it was a healing era filled with Hot Pockets and Sex and the City marathons.
If attending Howard ultimately wasn't in the cards, did teenage Randall attend a college near Pittsburgh and find a mentor in Kaczmarek's educator? The fact that her character is a scientist definitely makes a link to Randall believable. The only tidbit we have about Randall's college years so far is that he met Beth very early on there, but perhaps we can assume that before he managed to catch Beth's attention, Randall was a nerd who needed a professor's encouragement to break out of his shell.
Depending on how experimental the show wants to be with time, maybe Kaczmarek could even be a professor of Rebecca's way back in the day. This Is Us hasn't alluded to Rebecca attending college, but before pursuing her singer-songwriter dreams in the 1970s, maybe she briefly tried out school and this fierce, one-of-a-kind female professor inspired her to chase what she really loved. Rebecca must have had some exposure to the women's liberation movement along the way, right?
There's definitely a reason why the show hasn't leaked any more information about this new character, but hopefully we find out sooner rather than later when and where in the This Is Us universe Kaczmarek appears. I'm desperate for more insight into the immediate post-Jack era of the show, so fingers crossed that the theory about her playing Randall's teacher is true.
Season 3 of This Is Us premieres on Tuesday, Sept. 25, at 9 p.m. ET on NBC.