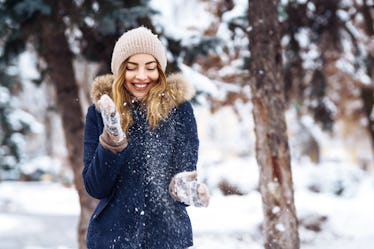 The Week Of December 21 Will Be A Beautiful Opportunity For 3 Zodiac Signs
Shutterstock
Make no mistake, 2020 has been struggle bus central and that's not up for debate. Even if you had a personally triumphant and pleasant year, society as a whole can't say the same. After all, you've endured the heavy-hitting Saturn-Pluto conjunction that caused longstanding structures to come crumbling down as the collective readies itself to rebuild from the rubble. But that's neither here nor there, because the cosmos have plenty of good news to go around. December 21, 2020 will be the best week for these zodiac signs — Taurus, Virgo, and Capricorn — and even if you're exhausted from all the pressure from 2020, this week is a beautiful opportunity to enjoy a pleasant astrological change.
What change am I talking about? Oh, just the fact that the sun leaves behind reckless Sagittarius and enters ambitious and stabilizing Capricorn on Dec. 21. For earth signs, this change is a breath of fresh air and a chance to get in touch with their ethereal, down-to-earth, and practical selves. All they'll probably want to do is curl up by a nice fire, get into the holiday spirit, and embrace a sense of calm excitement.
That's not all that's in store for earth signs this week. By Dec. 25, conversations will take on an intellectually refreshing tone and brainstorming sessions will produce innovative results when Mercury — planet of communication — forms a trine with electric Uranus, point its energetic focus directly onto earth signs. By Dec. 27, the sun will also join in the fun and form a trine with Uranus, encouraging revolutionary modes of self-expression and radical self-acceptance. Who can complain about that?
Here's what earth signs can look forward to:
Taurus: You're Feeling Frisky, Spontaneous, And Wilder Than Ever
Normally, you like predicting how things are gonna go, Taurus. You're a level-headed, dependable zodiac sign who loves a grounded feeling instead of something up in the air. However, this week, you're craving a little excitement to shake up your norm. Ever since Uranus entered Taurus last year, you've been getting to know all the many layers of yourself and embracing a deeper sense of independence. This week, you'll probably feel like exploring this new funky and frisky side of you by taking up spontaneous opportunities when they arise and seeing where they go.
Virgo: You're Definitely Feeling Like A Little Kid Again
The holidays always conjure up this nostalgic feeling for you, like you're a little kid all over again dancing under the pretty fairy lights and singing along with carols. This week, all this holiday enthusiasm might just spark a creative idea for you, leading to a beautiful artistic breakthrough. Standing under the mistletoe might even leave you feeling more than just silly, but totally wrapped up in those unexpected butterflies that arise in your stomach. This week is about romance, creativity, and pure unadulterated joy. Go all in, because there's no reason to deny yourself what you want, Virgo.
Capricorn: You're Getting A Break From All The Pressure
This year has been a wild ride for you, Capricorn. Between constant struggles and the feeling that you have to prove yourself, 2020 has been a year of immense growth, but everyone knows that growth does not arrive without a little bit of pain. This week is taking some of the pressure off your mountain goat back and allowing you to ease into an energizing self-confidence. In fact, you might even start expressing yourself in a way you never have before and reconnecting with a hobby or an art form that reminds you of who you really are. Live it up.