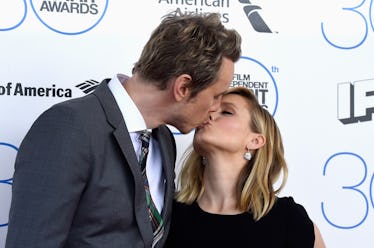 Dax Shepard's Sweetest Quotes About Kristen Bell Prove Their Love Is Honestly So Pure
Frazer Harrison/Getty Images Entertainment/Getty Images
It'll likely come as news to no one that Dax Shepard and Kristen Bell are one of the most adored and respected couples in Hollywood. Surprisingly, much of the love and appreciation people have for this dynamic duo is based on the fact that they have been disarmingly transparent about the ups and downs of their relationship. We all know that committed relationships aren't easy, but hearing celebrities talk about their own struggles can be really powerful. TBH, knowing everything they've been through as a couple makes Dax Shepard's sweetest quotes about Kristen Bell, even sweeter.
Shepard and Bell met in 2007 at a birthday dinner for mutual friends, and admitted that they didn't immediately hit it off. The couple has been very open about their initial incompatibility on paper, and the constant effort and regular couples therapy it takes to keep their relationship thriving.
"We don't believe in The One," Bell told Us Magazine. "We don't believe in the fairytale. We don't believe that you can meet someone and you have a perfectly matching personalities. We are opposites and it has taken a tremendous amount of work and therapy for us to coexist."
Fortunately, all of the effort seems to be totally worth it, because these two serve up some #relationshipgoals realness on the reg. Hearing Shepard gush about what an awesome bae he has is cute AF. Without further ado, here are some of the most honest and heartwarming things Shepard has said about Bell.