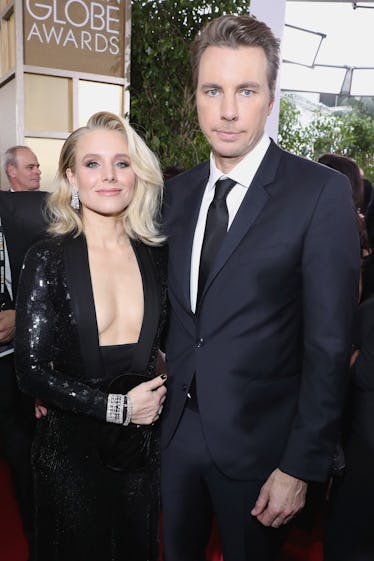 Kristen Bell's Sweetest Quotes About Dax Shepard Are The Cutest Thing On Earth, No Joke
Jonathan Leibson/Getty Images Entertainment/Getty Images
Listen, to be completely honest, not every celebrity couple offers fans an exciting glimpse into love. Not to be rude, but some celeb couples just don't seem that in love or meant to be. Enter: Kristen Bell and Dax Shepard, who are about as meant to be as vodka and Pamplemousse La Croix. Which is why Kristen Bell's quotes about Dax Shepard will totally warm your heart, and have you giggling like you're 12 years old again.
Now, if you aren't familiar with Bell and Shepard's love story, then you need to catch up. Seriously, the couple seems so in love, and their happiness has been a long time coming. According to PopSugar, the two met in 2007 (over ten years ago!) but it wasn't exactly love at first sight.
In fact, as Shepard told Good Housekeeping in 2015, he was a little skeptical of Bell at first. Namely, Shepard just didn't get how someone could be so happy. "When I met her and her friends, I was suspicious of their unbridled happiness," he told the magazine. "I thought, 'Something stinks here; they're in a cult.' But slowly I began to see her positive way of looking at the world. She gives people the benefit of the doubt."
Clearly, though, since then, the two have grown closer, started a family, and been the perfect examples of true love. So, let's take a look at what Bell herself has to say about her sweet husband.