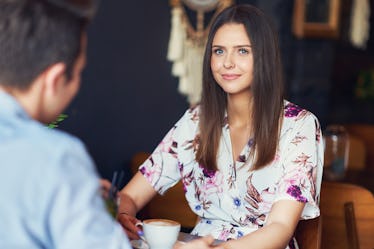 Dating Can Be Exhausting, So Try These 4 Tips To Avoid Burning Out
Shutterstock
I have a love-hate relationship with dating. On the one hand, it's super fun to put on a cute outfit, meet someone new, and try my best to seem charming and witty. But on the other hand, dating is exhausting, and I get really tired of putting myself out there. Sometimes, the last thing I want to do on a weeknight after work is go have drinks with a relative stranger.
Before I met my current boyfriend, I spent over a year going on dating app dates with no long-term success. It got really frustrating, and there were moments when I would delete all my apps in despair because I couldn't stand the thought of sending one more meticulously crafted opening line. The truth is, dating feels like work sometimes, when all you really want is to find comfortable love and happiness.
But putting yourself out there is key to eventually finding someone you connect with. So, how can you date around without burning yourself out? According to relationship expert April Masini, all it takes is a little intention about how you want to structure your dating life. Your mental health and happiness should be the priority, no matter how long it takes you to find lasting love.
Try these tips from Masini to make your dating life less stressful and more legitimately exciting and fun.