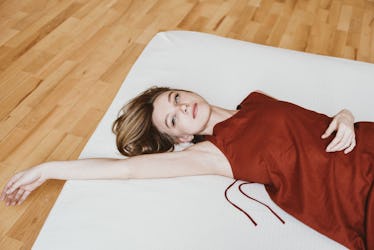 5 Encouraging Things To Remember If You're Single & Tired Of Dating
There's a lot about dating that can be really fun, like meeting someone new, feeling that first spark of chemistry, having new experiences, and flirting — lots of flirting. And it's so exciting to see that blossom into a meaningful relationship. But sometimes, it can feel like those awesome moments are few and far between, and all the swiping can start to feel like a chore. You've gone from single and loving it, to single and tired of dating. Listen, I get it, I've totally been there — and the longer the funk goes on, the harder it can become to snap out of it. But here's the good news: You're not alone. According to Cherlyn Chong, a dating coach who specializes in helping professional women through their breakups, feeling discouraged about dating is extremely common.
"Unless you're one of the lucky 0.1%, a good 80-90% of the people you meet will not be a fit for you, and if one isn't prepared for that much disappointment or lack of success, it's easy to become disillusioned," Chong tells Elite Daily. Dating apps give us an abundance of options, but we can also just end up with a whole lot of people who aren't a fit, explains Jenna Birch, strategic advisor for Plum dating app and author of The Love Gap. "Searching all those profiles and downloading all those apps, it can feel like an information overload sometimes. You also can't plan love. If you're dating for a relationship and haven't met someone you click with on that level in a while, you might grow tired of the search" she tells Elite Daily.
Julie Spira, online dating expert and author of Love in the Age of Trump: How Politics is Polarizing Relationships, calls these feelings "dating fatigue," and says that when it surfaces, it might be time to put a pause on dating for a bit. "When fatigue sets in, it's a good idea to take a break. Whether you set a defined time of three to five days, or just decide to take a walk or a hike to clear your head, pushing the pause button on dating will give you a fresh look at the process. Plus, new people will become single while you're out-and-about on your brief dating hiatus," Spira tells Elite Daily. It also helps to remember and focus on the more encouraging things about dating, because contrary to popular belief, there is plenty of hope. Here's what the experts say to remember.