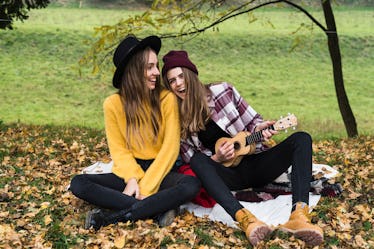 Here's Why You Should Go On A Date With Someone You're Not Into, According To Experts
How important is instant chemistry when you're deciding whether or not to go on a date with someone new? Is it essential, or are there times when you actually should go on a date with someone you're not into just to see what happens? If the dates I've gone on with folks who I had that instant spark with are any indication, instant attraction is no guarantee that the date will be successful, like at all. But if that's the case, then is the opposite true as well? Can a date with someone who you don't have that immediate attraction to turn out to be amazing if you only gave it a shot? Have you been passing up on a good thing because you weren't totally into them right away? Kind of a scary thought, really.
To help get to the bottom of this, I reached out to experts to ask if you should actually be open to dating folks who you aren't feeling it with right away. I wanted to know how to tell when to trust that instinct and turn down the date, and when to keep an open mind. Here's why they say you should consider dating folks you're not into, and when to trust your instincts and turn down the date.