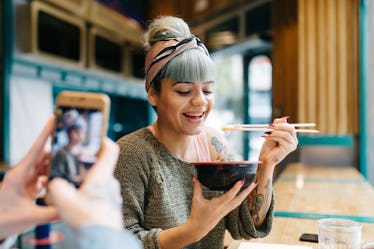 Dating In Your Mid-20s Is A Rollercoaster, So Hang Onto These 9 Genius Tips
Whether you're a serial dater, a swipe master, or someone who'll occasionally give "the dating thing" a shot, dating in your mid-20s will always be an interesting ride. Your potential baes/FWBs are more mature than your candidates in high school or freshman year of college (fingers crossed!). You probably have a bit more in the budget for some fun first-date ideas. You've got more autonomy and mostly answer to yourself. And yet, there's still that frustrating-but-magical human element to dating that will both delight you and keep on your toes. Dating in your mid-20s is a rollercoaster, complete with the upswings of serendipitous meet-cutes and passionate one-night stands, as well as the drops of awkward first dates and getting ghosted.
Even if you're just looking for a regular hookup with whom you can trade song recs or order takeout, there can still be a lot of factors at play. You've got to figure out what you want, whether it matches up with what the other person wants, and — if you're on the same page —whether it can all work, practically speaking. The most important thing is that you listen to your gut. Check in with yourself. Don't be afraid to speak up for what you want. And of course, that you make sure you're going out with people who make this ride called dating fun. Here's advice from nine people on how to navigate dating in your mid-20s.