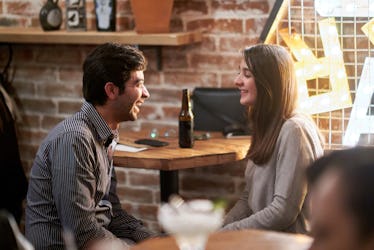 6 Most Awkward First Date Scenarios & Exactly How To Handle Each One Like A Boss
I have a confession: I kind of like going on first dates. I know that's a bit masochistic, but I'm just an extrovert who likes drinking and meeting new people. Put me at a bar alone, and I'll make weird eye contact until the bartender strikes up conversation with me. I love an airport bar, because it's a place where everyone is particularly chatty. That said, the awkward first date is unavoidable. I would even consider it a rite of passage for anyone who dates frequently.
It's one thing to randomly talk to a stranger at a bar, but it's another thing to make plans to meet up with a stranger to decide if you both want to get in each others pants (or families). Despite my semi-fondness for first dates, I've had plenty of awkward ones. For example: the time I picked a scab on my wrist and was suddenly bleeding on my drink, my sweater sleeve, and eventually, my date. (This is why I like going to bars alone!) I've gotten a bloody nose mid-kiss on a date. (Yes, another embarrassing blood-related snafu.) I've also choked a little bit on a piece of popcorn on a date — luckily I survived sans Heimlich.
I also co-host a podcast, 51 First Dates, where our listeners send in their worst first dates. In these submissions, dogs have died, racists have been exposed, and bodies have unexpectedly released substances grosser than blood. When dates go terribly awry, there are a few things I wish I had: Floo Powder and a fireplace in order to make a speedy-yet-dramatic exit, OR a pre-imagined plan of attack on what to do. I broke down six common first-date woes and a three-step process for how to tackle each one: