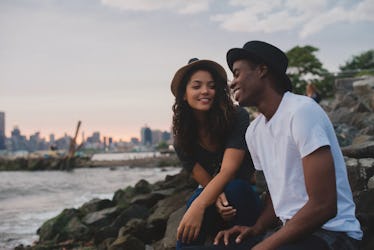 How To Feel Comfortable On A First Date, According To Experts
If the past few weeks in our news cycle have highlighted anything, it's that having and respecting personal boundaries is extremely important. But all too often in the dating world, this becomes complicated, difficult, and sometimes even dangerous. For a variety of reasons (and yes, many of those reasons stem from bad experiences I've had in the past), I often find the prospect of dating, and simply meeting a date for the first time, to be both daunting and intimidating. It's why learning how to feel comfortable on a first date is a skill that's worth working on and talking about.
At this point, my priorities on a date are first and foremost safety, respect, and enjoyment. But in the past, I've definitely done things that didn't jive with those priorities, like, for example, staying on a bad date much, much longer than I wanted to because I was too uncomfortable to leave. As a result of so many dreadful experiences, I've often canceled a date at the last minute because my nerves got the best of me — which is totally fine, but doesn't necessarily do the trick if you actually want to meet someone, you know what I mean?
One thing I used to do to make myself feel more comfortable meeting dates for the first time in New York City was to plan for us to meet at a restaurant where my roommate worked. Not only did I have a pal secretly nearby, I also had a reliable person to walk home with, and someone to help me dissect the after the fact.
Now, that was obviously a pretty lucky scenario for me, but you might not have a similarly solid safety net like that to fall back on in your own dating life. So, to help you feel more safe and comfortable in your own dating experiences, Elite Daily spoke with a few experts who have some great advice about how to cultivate that sense of security in your dating life, while still having a genuinely good time as you meet new people and build new relationships.
Here's to a future of greater and safer communication in the realms of love and friendship, my friends.