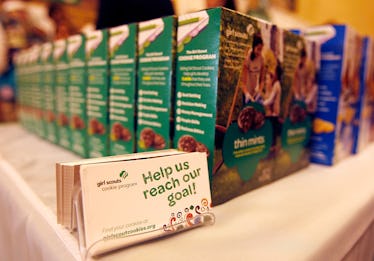 Girl Scouts In Texas Are Donating Cookies To Hurricane Harvey First Responders
Paul Morigi/Getty Images Entertainment/Getty Images
Everyone loves Girl Scout cookies — and yes, I really do mean everyone. Whether you're a Thin Mint fanatic or a Samoa stan, we all look forward to this time of year. But some of us are in need of a little pick-me-up more than others. This year, one troop in Texas decided to spread a little joy and express their gratitude for Hurricane Harvey first responders by launching the "Cookies-4-Heroes" Girl Scout Program.
Elite Daily reached out to the Girl Scouts of San Jacinto and did not hear back by the time of publication.
According to ABC 13, the Girl Scouts of San Jacinto Council launched Cookies-4-Heroes as a way to give back to those who were assisting on the scene during Hurricane Harvey. Through the program, the troop will donate Girl Scout cookies to the firefighters, paramedics, and police officers who served the people of Texas during Hurricane Harvey.
Cookies-4-Heroes appears to be part of Girl Scouts' larger donation program, Virtual Cookie Share, which distributes cookies to local military and veteran organizations. As Food & Wine points out, Hurricane Harvey first responders waded through neck-high water, traveled on boats and jet skis, and put their own lives at risk to rescue children, families, the elderly, pets, and others who were stuck in the hurricane's devastating flooding. Donating Girl Scout Cookies is a simple way to let these hard-working people know that their work is appreciated. The program runs from Jan. 6 to Mar. 25, so if you're in the area, there's plenty of time to donate. If you're not based in Texas, you can donate to first responders in your area via your local troop's Virtual Cookie Share program.
So just what else do the Girl Scouts have cooking this year? Their delicious cookies went back on sale on Jan. 3, and TBH, I haven't stopped thinking about them since I heard the news. The best news of all? The beloved Girl Scouts S'mores cookie, which launched in 2016, is back once again. There are two variations: the graham cookie sandwich, which is filled with chocolatey, marshmallow-y goodness, and a crispy graham cookie double dipped in creme icing and chocolate — woah.
For those who don't like change and just want to stick with the classics, the rest of this year's available Girl Scout Cookie flavors include Thin Mints, Samoas, Tagalongs, Trefoils, Do-si-dos, Lemonades, Savannah Smiles, Thanks-A-Lots, Toffee-tastics, and Trios. Double woah. I've only had about half of these flavors, but this just may be the year that I try every single one. Availability varies, so be sure to check with your local troop to find out which flavors you can get your hands on.
When I was younger, my mom would always mysteriously come home with Girl Scout cookies purchased from her coworkers' kids. I never knew how to order them myself, but thankfully, it's super easy; you just have to know where to buy them.
If you're lucky, you might see Girl Scouts selling the delicious treats outside your local grocery store. If so, you can purchase some right there, in person — instant gratification. No cash? No problem. Some even have card swipers. Ah, the future.
If you prefer to buy online, you can visit a Scout's Digital Cookie page. Let them know you're interested in buying, and they can provide you with more information. Unfortunately, this option is somewhat new, so it may not be available in your area — double check with your Scout.
Even if you don't know any Scouts, you can visit the Girl Scouts' cookie website and enter your zip code to find cookie sales in your area. You can also download the Girl Scouts app and select "Find Cookies Now!" to find the time, date, and location of a sale near you. Cookie season lasts from January until April, so hope to it!
Check out the entire Gen Why series and other videos on Facebook and the Bustle app across Apple TV, Roku, and Amazon Fire TV.