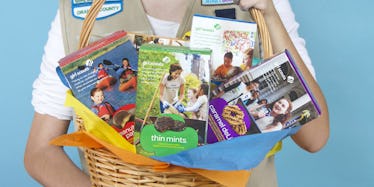 Two New Girl Scout Cookies Are Coming Out And The World Is A Happy Place
Shutterstock
You may have already heard this, but I really love cookies. Specifically, Girl Scout cookies of the Thin Mint variety. Samoas are great too. And Tagalongs. OK, I like most of them.
Cookie lovers all over the world can rejoice because two new types of Girl Scout cookies are going to be available in January 2017.
The new flavor? S'mores! Girl Scouts announced this just in time for National S'mores day. More importantly, it's the company's delicious way of celebrating its 100th year anniversary.
Why s'mores? According to a statement on its site,
We're combining two iconic Girl Scout traditions — s'mores and Girl Scout Cookies.
We can totally get behind both of these traditions.
The two types are both s'mores inspired but come in two different varieties.
On the left, you can see the graham cookie sandwich with a marshmallow and chocolate filling as well as the chocolate-dipped version on the right. Bonus! The chocolate covered version is vegan. I'm not sure which one I'd go for first. Let's be real, when these come out next year I'm buying boxes of both. Yes, multiple boxes.
These look so good.
The last time Girl Scouts announced new cookie flavors, we got gluten free Toffee-tastic and Trios as well as Rah-Rah Raisins. Girl Scouts' cookie lineup only gets better each year.
What puts the icing on the Girl Scout cookie? When you buy any box of Girl Scout Cookies, you're also supporting the future of Girl Scout programming for nearly two million girls. You can check out more about all the opportunities with Girl Scouts here.
And while you wait, you can always DIY and make a Girl Scout s'mores cookie sandwich like this one below.
Honestly, this looks way better than a regular old graham cracker s'more.
Brb, I'm going to go track down some Girl Scout cookies right now.
Citations: Drop Everything: There Are 2 New Girl Scout Cookies And They're Inspired By S'mores (Huffington Post)