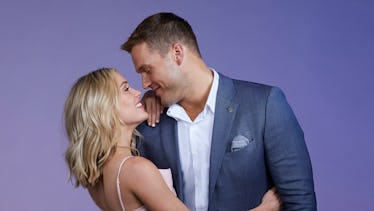 Colton Underwood & Cassie Randolph's Astrological Compatibility Says The Timing Was Right
I think it's fair to say that The Bachelor's finale was, ahem... dramatic this season, what with Cassie Randolph's self-elimination and Colton Underwood's subsequent broken-hearted flight into the night. Oh, and that little matter of breaking up with his other two finalists so that he could chase Randolph down and woo her back. Like I said, dramatic. But now that all the dust has settled, do they have what it takes to go the distance? We can get some insights by considering Colton Underwood and Cassie Randolph's astrological compatibility.
Underwood was born January 26, under the sign of Aquarius, and Randolph's birthday is April 27, which makes her a Taurus. If you're at all familiar with how these two signs interact in a relationship, then suddenly all those finale shenanigans and cold feet might start to make a lot of sense. While these signs aren't literal opposites in the zodiac, they might as well be for how different they are in terms of personality traits, goals, and values. This can make a pairing of these signs a challenging one, to say the least. When it comes to matters of the heart, Taurus is all about feeling emotionally safe and secure, thanks to their ruling planet Venus. Whereas, for an Aquarius, the idea of settling down is antithetical to every fiber of their being — until they are good and ready. Sensing this, Taurus tends to pull away. But here's the thing: While Aquarius is in no rush to settle down, present a challenge by pulling back and you can count them to suddenly grow very intrigued. This adds a lot of context to why Randolph dropped out of the competition, and how that basically guaranteed that Underwood could only have chosen her — and pursued her so... intently.
Now that the competition is over, what does the future hold for these star-crossed lovers? Here's what we know about how these signs typically fare in a relationship.