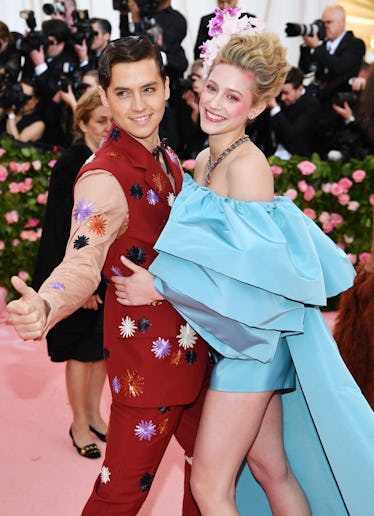 You'll Squeal So Hard At What Cole Sprouse & Lili Reinhart's Met Gala Body Language Shows
Dimitrios Kambouris/Getty Images Entertainment/Getty Images
The 2019 Met Gala took place on Monday, May 6, and as per usual, it was a star-studded affair. A-listers took to the pink carpet to debut their own takes on this year's "Camp" theme, and one couple in particular really nailed it. Cole Sprouse and Lili Reinhart, who star together on Riverdale, totally wowed fellow attendees (and all of us at home in our sweat pants) with their gorgeous looks. The best part? Cole Sprouse and Lili Reinhart's 2019 Met Gala body language showed that not only did they look great, but they also probably felt pretty great too.
Now, ICYMI, this isn't Sprouse and Reinhart's first Met Gala together. In fact, they made their public debut as a couple at last year's Met Gala, looking fierce as ever. So the fact that they showed up together again — looking flawless of course — just makes it all the more sweet. Sprouse and Reinhart are super adorable together, and seem to really bring out the best in each other. Speaking to Ocean Drive in February 2018, Reinhart said Sprouse really calms her down, along with the rest of the cast of Riverdale. "He's always the one to be like, 'Just ignore it. It will blow over'," she said. "It's a nice, calming energy he has because you know that he's been through it."
Now that the two have been together for over a year, their body language is tighter than ever.