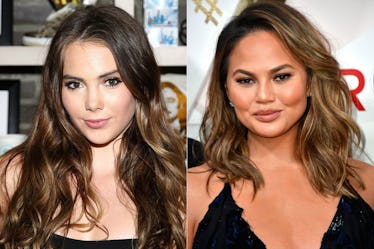 Chrissy Teigen Offered To Help Gymnast McKayla Maroney Get Justice & It's So Inspiring
Tommaso Boddi/Getty Images for GBK Productions / Frazer Harrison/Getty Images
On Tuesday, Jan. 16, model and icon Chrissy Teigen tweeted about McKayla Maroney, the Olympic gymnast who is fighting for justice following alleged abuse at the hands of former USA Gymnastics doctor Larry Nassar. Maroney is fighting for justice not just against Nassar, but also against USA Gymnastics, the organization that she claims made her sign a non-disclosure agreement for a financial settlement. Teigen made it clear that she is on the gymnast's side in a tweet sent on Tuesday.
UPDATE: On the night of Jan. 16, according to Sports Illustrated, USA Gymnastics said that the organization "has not sought and will not seek any money from McKayla Maroney for her brave statements made in describing her victimization and abuse by Larry Nassar, nor for any victim impact statements she wants to make to Larry Nassar at this hearing or at any subsequent hearings related to his sentencing. This has been her right and USA Gymnastics encourages McKayla and anyone who has been abused to speak out."
In a statement provided through her attorney on the afternoon of Jan. 16, Maroney thanked Teigen, per SI, saying, "you're so inspiring, and things are starting to change because of people like you!"
EARLIER: Maroney came forward as an alleged victim of Nassar in a #MeToo post on Oct. 18. She was the first of the Fierce Five 2012 women's gymnastics team to speak up with allegations. Her teammates Aly Raisman and Gabby Douglas later made their own statements. This was happening as Nassar was in court after facing accusations of abuse from over 130 women and girls. Nassar was sentenced to 60 years in federal prison on charges of child pornography in December. He has also pleaded guilty to seven counts of criminal sexual conduct. On Jan. 16, an expected 88 people are beginning to give victim impact statements as part of Nassar's criminal sentencing process.
Maroney took her fight one step further in December, which is what Teigen was referring to in her tweet on Tuesday.
On Dec. 20, Maroney filed a lawsuit against USA Gymnastics. In the lawsuit, Maroney claims that the organization made her sign a non-disclosure agreement in order to get a financial settlement, which she used for psychological treatment. So essentially, she's claiming that in order to get money from USA Gymnastics, she had to agree to not speak about her alleged abuse. John Manly, Maroney's attorney, said in a statement according to NBC News,
Ms. Maroney did not want to enter into an agreement where she could not even speak to her brother and sister or friends about what happened to her. Under the terms of that agreement, she couldn't even speak to a future fiancé without the threat of being sued.
USA Gymnastics said in a statement on Dec. 20 that "the concept of confidentiality was initiated by McKayla's attorney, not USA Gymnastics" and that the settlement "was in accordance with state laws, despite what has been alleged."
Teigen's tweet was referencing a Daily Mail story about the settlement that was published on Tuesday. "The entire principle of this should be fought — an NDA to stay quiet about this serial monster with over 140 accusers, but I would be absolutely honored to pay this fine for you, McKayla," Teigen said in her tweet.
Teigen's tweet came as women and girls spoke in court against Nassar in Michigan. Raisman published her own victim impact statement in December, at which point she — and other alleged victims — was not given allowance to speak in court. She wrote in the statement,
I ask that you give Larry the strongest possible sentence (which his actions deserve), for by doing so, you will send a message to him and to other abusers that they cannot get away with their horrible crimes, that they will be exposed for the evil they are, and they will be punished to the maximum extent of the law. Maybe knowing that Larry is being held accountable for his abuse will help me and the other survivors feel less alone, like we're being heard, and open up pathways for healing.
Kyle Stephens was the first to speak in court on Tuesday and, directly addressing Nassar, said, "[Nassar] used my body for six years for your own sexual gratification."
"Little girls don't stay little forever," Stephens said to Nassar in court on Tuesday. "They grow into strong women that return to destroy your world."