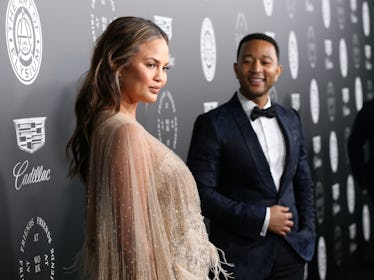 Chrissy Teigen & John Legend Made A Major Donation For Gymnasts & I'm Crying
Phillip Faraone/Getty Images Entertainment/Getty Images
On Sunday, Jan. 28, it was announced that Chrissy Teigen and John Legend donated to Time's Up, the new legal defense fund created following the #MeToo movement. But it wasn't the donation itself that got people interested, especially given that this is a charity supported by many celebrities. Instead, people perked up at the reason why Teigen and Legend made the donation. According to the couple themselves, Teigen and Legend donated to support the gymnasts who stood up to abusive doctor Larry Nassar.
On the GoFundMe page for Time's Up, it's noted that there was a $200,000 donation made on Sunday from "Chrissy Teigen and John Legend on behalf of the heroic gymnasts of the USA Gymnastics Team." This follows the public support that Teigen had been giving to the gymnasts throughout Nassar's sentencing process this month.
On Wednesday, Jan. 24, Nassar was sentenced to 40 to 175 years in prison after he pleaded guilty to 10 counts of criminal sexual conduct, which he said included abusing his post as an athletic doctor for USA Gymnastics and Michigan State University. Over the course of the public sentencing hearing, over 150 young women gave victim impact statements in the Michigan court. This included Olympic gymnasts Aly Raisman, Jordyn Wieber, Jamie Dantzscher, and McKayla Maroney, who had a statement read on her behalf. Olympians Gabby Douglas and Simone Biles also claimed they were victims of Nassar in recent months, although they did not give statements in court.
Teigen was clearly paying attention to the case, as she showed on Twitter. In December, it was reported that Maroney was suing USA Gymnastics for reportedly making her sign a non-disclosure agreement as part of a financial settlement agreement from Nassar's abuse. It was then reported that had she broken the non-disclosure agreement by speaking about the abuse, she would have been fined $100,000. In a tweet on Jan. 16, Teigen said she "would be absolutely honored to pay this fine for you, McKayla."
USA Gymnastics said in a Dec. 20 statement that "the concept of confidentiality was initiated by McKayla's attorney, not USA Gymnastics" and that the settlement "was in accordance with state laws, despite what has been alleged."
Following Teigen's Jan. 16 tweet, USA Gymnastics said,
[USA Gymnastics] has not sought and will not seek any money from McKayla Maroney for her brave statements made in describing her victimization and abuse by Larry Nassar, nor for any victim impact statements she wants to make to Larry Nassar at this hearing or at any subsequent hearings related to his sentencing. This has been her right and USA Gymnastics encourages McKayla and anyone who has been abused to speak out.
Maroney responded to Teigen's tweet in a statement made through her attorney, saying,
I'm not on social media right now, but I wish I was for this! I'm shocked by your generosity, and I just want you to know how much hope your words bring to all of us! I just can't get over the fact that someone I don't personally know is sticking up for me, let alone a strong woman that I've looked up to for years!
Thank you Chrissy, you're so inspiring, and things are starting to change because of people like you! Just saying that was worth the decision to speak up regardless of a fine. You're heart pure gold. God bless. All my love, McKayla
The Time's Up fund was created this winter following the revelations of the #MeToo movement. The fund supports "women and men who have experienced sexual harassment, assault, or abuse in the workplace and while in pursuit of their careers," per the GoFundMe page, by helping to get legal support. Time's Up is run by the National Women's Law Center. Donations can be made online, but only up to $50,000. To donate more, like Teigen and Legend did, you need to send a check or wire transfer. Clearly, that extra step didn't deter them from making a huge gesture for survivors everywhere.