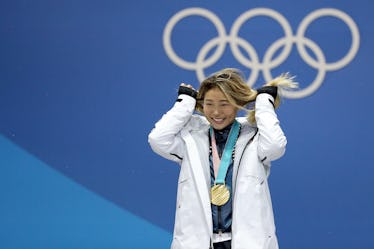 These 5 Workouts From Chloe Kim Are Simple, But They'll Make You Feel Like An Olympian
Sean M. Haffey/Getty Images Sport/Getty Images
Watching Olympic snowboarding is invigorating, and I'm constantly in awe of the athletes and their mind-blowing moves on the slopes. How does anyone possibly prepare themselves to launch several feet into the air, and land back down on icy terrain — without falling? Well, after taking a look at a few of Olympic snowboarder Chloe Kim's go to workouts that she does off the snow, I'm honestly surprised by how doable these moves are for non-Olympian plebs like you and me.
If you're wondering why I chose to investigate Chloe Kim's workouts specifically, let me just say that this woman is my spirit animal. TBH, I think my love for her began when she was literally tweeting about wanting churros and ice cream just seconds before an Olympic competition. And then she casually won the gold medal — no big deal, though. But yeah, if there's any Olympic workout routine worth emulating, it's clearly Kim's.
Despite what an amazingly successful athlete Kim is, her workouts really don't get too fancy, complicated, or especially strenuous. These five simple exercises can be incorporated into just about anyone's routine, and they're sure to make you feel just as badass as Kim. Oh, and in her honor, you should definitely have a churro or a bowl of ice cream (or both, because why the hell not?) after you're done.