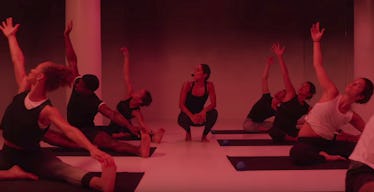 If You Hate Spinning, SoulCycle Opened Up A New Studio With No Bikes At All
When most people try a SoulCycle class, they're usually immediately hooked on the bumpin' tunes that permeate the studio, the super inclusive, almost cult-like community, and of course, the endorphin-infused, post-spinning high that comes after you're done sweating it out. However, I was always in the minority, due to my unfortunate, but still genuine, absolute hate for anything involving spinning. But when SoulCycle began hinting at a new type of class that's completely different than anything they've ever done thus far, I must admit, I was intrigued. So, what is SoulAnnex?
SoulAnnex opened its doors on Monday, Oct. 2 in the Flatiron district of Manhattan, after much anticipation from SoulCycle devotees. This new type of class is changing the game for people who just aren't about that spinning life. According to Well+Good, the studio is completely bike-less.
I know what you're probably thinking: WTF? Isn't SoulCycle's main purpose, well, to cycle?
While the bikes have obviously been a staple in its studios, SoulCycle's number one goal has always been to create a community that can move together and feel good. So, technically, bikes have really never been the main focus of this kick*ss brand.
SoulAnnex houses custom-created classes that allow you to move, strengthen, and express yourself in completely new ways, sans bike.
There are three types of classes at the new space, so you have a bit of variety on how you want to tone your bod and sculpt your mind.
The first type of class is called "Move," in which an instructor guides you through an uplifting experience steeped in good vibes and next-level momentum. Don't you worry -- the killer playlists and motivational beats will totally still be present, so you can effortlessly move to the rhythm as you exercise.
Another new SoulAnnex class is called "Define." Much like what you'd find in your favorite yoga class, you set an intention for your workout to cultivate good energy, and then, throughout the class, you'll be guided through sweaty HIIT training and challenging plyometric moves to kick your fitness goals up a notch.
Your last option at SoulAnnex is "Align," which is basically the active recovery day of your dreams. If your muscles are tight AF and you're craving some TLC, this is the class for you. Your core strength will be tested in ways you probably never imagined, and your body and mind will emerge feeling totally balanced and rejuvenated.
From innovative ways to challenge your body, to some major improvements in cultivating mind-body connection, SoulAnnex truly thought of it all in its new studio.
The SoulAnnex website promises that its classes will include things like "on-tempo Pilates meets high-intensity strength training," "lacrosse ball self-massages," and even "fight sequences inspired by MMA techniques."
OK, I'm sold, who wants to sign up for a class with me?
If you're not convinced yet, this mind-body approach that SoulAnnex is taking has been shown to be an extremely healthy, multifaceted approach to fitness. According to research, mind-body exercise that pairs muscular activity with an internal focus is highly effective and necessary for physiological and psychological self-care, and even has the potential to totally change the way we treat certain diseases when it comes to health care approaches.
The fitness world overall is beginning to embrace these different mind-body exercise experiences, with SoulAnnex being just one of many. This internal focus that mind-body exercise adds to conventional aerobic exercise is imperative when it comes to alleviating anxiety and improving your self-image.
OK, now I'm extra sold on SoulAnnex.
SoulAnnex is officially up and running, and classes are priced at $34 a pop. See you off the bike!