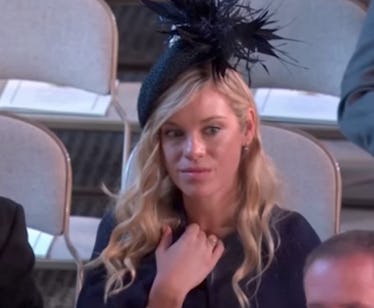 Prince Harry's Ex-Girlfriend Is Becoming A Meme After Showing Up To His Wedding
As you may know, Chelsy Davy is Prince Harry's ex-girlfriend, and she was invited to the royal wedding. Not only did she look unamused, but she honestly looked like she was majorly regretting some of her pivotal life choices. If you haven't seen them, Chelsy Davy's royal wedding memes are too relatable.
Davy not only looks like wishes she hadn't come to watch the royal wedding at all, but it also looks like she's really giving her split from Prince Harry a few second thoughts. Prince Harry and Davy split almost a decade ago, but Davy is definitely looking a little disgruntled RN. The ceremony was beautiful and Meghan Markle looked flawless, so not getting jealous would be pretty hard, if I'm being completely honest.
In reality, who knows what was running through Davy's head? Maybe she was thinking about what she was going to eat for dinner later that evening, or she might have been recapping the most recent episode of Gossip Girl she watched. Regardless, her facial expression is kind of hilarious — especially because she's Prince Harry's ex, who's currently sitting in the stands at his wedding. I have no idea what she's actually thinking, but Twitter had a few ideas in mind... and honestly, they're so relatable.
OK, seeing as there's even a trending hashtag that's come up for this extremely relatable screenshot, #ItShouldHaveBeenMe, it's clear that everyone at home has felt this way at some point in their lives. Also, notice that Davy is wearing black, which many have attributed to the fact she's looking like she's at a funeral. Don't worry, Chelsy Davy, I feel your pain. Go home, make a hefty bowl of Kraft Mac and Cheese, and whip out a few Disney movies. Or listen to some '00s pop punk music. Regardless of how you want to handle this, that's definitely what you'd find me doing. TBH, I've been there.
I mean, Prince Harry and Meghan looked totally in love at the altar, so it had to have been hard to be there, as one of his exes... right? In the beginning of the ceremony, perceptive fans were able to notice that the two were holding hands, even while they said their "I dos." It was honestly so adorable, combining the physical gesture of holding hands while simultaneously tying the knot. For this reason, it's pretty obvious as to why Davy probably felt awkward.
This isn't the only awkward thing to happen in terms of the royal wedding. On May 18, a day before Markle and Prince Harry were about to tie the knot, Kensington Palace tweeted the official royal wedding program, where they state that Markle's father, Thomas Markle, would be accompanying his daughter down the isle. However, earlier that day, they had revealed that Prince Charles would walk Markle down the isle, in lieu of Markle's father, who was in recovery from heart surgery. It was probably an honest mistake, but it goes to show that even the royal wedding makes planning mistakes.
While there could have been several reasons as to why Chelsy Davy was staring off blankly into the distance, most viewers at home are feeling a little extra empathy for her. Going to an ex's wedding has to be one of the most awkward things imaginable, and if I were there, I would have felt some major #regrets. I mean, maybe she was zoning out, or thinking about something entirely unrelated, but regardless, her face was super relatable, and we're all feeling those vibes. Chelsy, LMK if you need a girl's night, I'd totally be down.