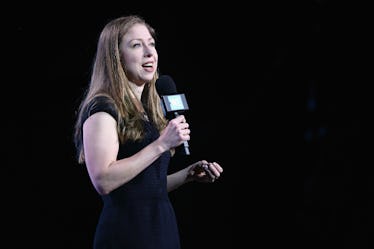 Chelsea Clinton Clapped Back At A Reporter Downplaying The Recent String Of Suspicious Packages
Monica Schipper/Getty Images Entertainment/Getty Images
In the wake of a series of suspicious packages being sent to prominent Democrats and CNN, there have been mounting suggestions that President Donald Trump's intense political rhetoric is to blame for the potential attacks. Elite Daily reached out to the White House for comment on the suggestions that President Trump's political rhetoric has influenced acts of potential violence, but did immediately not receive a reply. More of those suggestions surfaced on Oct. 26 in a MSNBC news segment, but correspondent Hugh Hewitt insisted that Trump's behavior is no different than that of Democrats. Well, Chelsea Clinton's response to Hugh Hewitt's comments on Trump and suspicious packages, specifically, is a major read and perhaps says what a lot of people are thinking.
Her response was fueled by a chat between political consultant Stephanie Cutter and Hewitt on Friday afternoon. In their sit-down, Cutter claimed that the president has indeed incited violence, listing off various examples, from Trump seemingly encouraging combat at his rallies to him wishing bodily harm on his protesters. The White House did not immediately reply to Elite Daily's request for comment on Cutter's comments. She concluded by telling Hewitt that there is no "equivalent" of his behavior in the Democratic Party, which he apparently took issue with. Hewitt pointed out the Oct. 20 confrontation between a protester and Senate Majority Leader Mitch McConnell, which is so not the same, according to Clinton.
In a tweet shared on the evening of Oct. 26, Clinton referenced a similar moment to the confrontation with McConnell that she says happened when she was 14. However, she noted that the was never worried that the protester would harm her and her parents, and understood why he was upset. According to Clinton, that stands in stark contrast to the potential attack on her parents that occurred on Wednesday, Oct. 24. She declared,
There's no equivalency.
Elite Daily reached out to representatives of Hewitt for comment on Clinton's tweet reply, but did not hear back at the time of publication.
The spate of suspicious packages containing "potential explosive devices" started on Monday, Oct. 22, when the U.S. Secret Service intercepted one heading to liberal donor George Soros. Two days later, President Barack Obama, and Bill and Hillary Clinton received similar packages at their homes in Washington D.C. and New York, respectively.
"The packages were immediately identified during routine mail screening procedures as potential explosive devices and were appropriately handled as such. The protectees did not receive the packages nor were they at risk of receiving them," the Secret Service said in a statement. Similar packages were also mailed to other prominent Democrats in the following days, such as Rep. Maxine Waters, Joe Biden, and Sen. Cory Booker, as well as news outlet CNN — all of which are frequent targets of Trump, which fueled suggestions that his fiery rhetoric influenced the potential attacks.
CNN President Jeff Zucker was one of many who criticized Trump after the potential attacks, saying in a statement:
There is a total and complete lack of understanding at the White House about the seriousness of their continued attacks on the media. The president, and especially the White House Press Secretary, should understand their words matter. Thus far, they have shown no comprehension of that.
Waters, who was targeted on Oct. 24, also rebuked Trump. "I think the president of the United States has been dog-whistling to his constituency, making them believe that their problems are caused by those people over there," she explained to Blavity, referencing Democrats. The White House did not respond to Elite Daily's request for comment on President Trump's rhetoric.
While Trump initially condemned the potential attacks, he went on a fiery Twitter rant against the media on Friday, Oct. 26 for "blaming" him for them.
Later that day, in a meeting at the White House, he also smiled as an audience chanted things like "George Soros" and "CNN sucks," per The New York Times. Don't count on him slowing down on the rhetoric, is what I'm saying.
On the bright side, a suspect in the potential attacks has finally been apprehended, per The Washington Post. Rhetoric-induced violence or not, it's good to know that these threats were taken seriously by law enforcement.
Disclosure: Chelsea Clinton's husband Marc Mezvinsky joined Social Capital, an investor in Bustle Digital Group, in mid 2017 and joined the Board of Bustle Digital Group in early 2018.