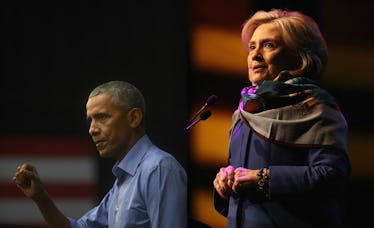 Hillary Clinton & Barack Obama Were Sent "Potential Explosive Devices" In The Mail, According To Reports
Mark Makela/Getty Images News/Getty Images & Robert Cianflone/Getty Images News/Getty Images
On Wednesday, Oct. 24, The New York Times reported that Hillary Clinton and Barack Obama were sent "potential explosive devices" by mail early that day. In a statement, the Secret Service confirmed reports of "potential explosive devices" sent to both politicians, and they are reportedly working with law enforcement to investigate this further. Elite Daily has reached out to representatives of both the Obamas and Clintons for comment about the "potential explosive devices," but did not hear back in time for publication.
The device sent to Clinton was intercepted in Westchester County, New York by the Secret Service late Tuesday, Oct. 23, while the device sent to Obama was intercepted the morning of Oct. 24 in Washington, D.C. An Obama spokesperson declined to comment about the device and directed all questions to the United States Secret Service.
On Oct. 24, the Secret Service shared a public statement about intercepting the two devices, stating that neither package made it to their recipients and how they'll move forward to find who sent the explosives. The statement read,
The U.S. Secret Service has intercepted two suspicious packages addressed to Secret Service protectees. ... The packages were immediately identified during routine mail screening procedures as potential explosive devices and were appropriately handled as such. Both packages were intercepted prior to being delivered to their intended location. The protectees did not receive the packages nor were they at risk of receiving them. The Secret Service has initiated a full scope criminal investigation that will leverage all available federal, state, and local resources to determine the source of the packages and identify those responsible.
Following reports of the "potential explosive devices", FBI New York also took to Twitter to acknowledge that they're aware the device was sent to the Clintons in New York and declared it an "ongoing investigation," per their tweet.
According to The Times, the explosive devices sent to Obama and Clinton are similar to the pipe bomb found at billionaire George Soros home on Monday, Oct. 22. Soros is a long-time donor to Democratic candidates and has earned a reputation of political activism in support of progressive causes and human rights campaigns. His involvement with progressive causes has led him to be the target of many conservative and right-wing conspiracy theories, including false theories that he funded a caravan of Central American migrants currently moving through Mexico.
In addition to the devices sent to the Clintons and Obamas, CNN's New York offices were also reportedly evacuated over an apparent suspicious package near its headquarters. A number of individuals took to Twitter to give updates on the evacuation. So far, nothing has been confirmed on whether the package contains potential explosive devices or details about who sent the package.
Following reports of the devices, the White House released a public statement condemning these "attacks," and claimed that perpetrators will be held accountable. The statement read,
These terrorizing acts are despicable, and anyone responsible will be held accountable to the fullest extent of the law. The United States Secret Service and other law enforcement agencies are investigating and will take all appropriate actions to protect anyone threatened by these cowards.
Although no one knows who sent the devices to the Obamas and Clintons, let's hope occurrences like these don't become commonplace. Stay alert, and stay safe everyone.