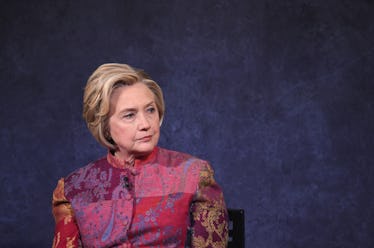 Hillary Clinton Just Broke Her Silence After Being Sent A Suspicious Package
Jamie McCarthy/Getty Images Entertainment/Getty Images
Wednesday, Oct. 24 has been a wild day. A series of "potential explosive devices" were sent targeting Hillary Clinton, President Barack Obama, and CNN, triggering widespread condemnation and leaving the general public shaken. While President Barack Obama has yet to weigh in on the scary moment, his former secretary of state has — and Hillary Clinton's response to the suspicious package sent to her is a serious message. Elite Daily reached out to representatives of Clinton for additional comment on the incident, but did not receive a reply by the time of publication.
"We are fine, thanks to the men and women of the Secret Service who intercepted the package addressed to us long before it made its way to our home," Clinton said on Oct. 24 at a campaign rally in Florida, according to The Hill. "Every day we are grateful to their service and commitment." The former secretary of state also said that the devices sent to her are a sign of a "troubling time."
"It is a troubling time, isn't it? It's a time of deep divisions and we have to do everything we can to bring our country together," she told the crowd. "We also have to elect candidates who will try to do the same."
Her comments come just hours after it was reported by The New York Times that the Secret Service had intercepted a package sent to her home in New York on Oct. 23. A second package addressed to Obama was intercepted in Washington D.C. early on Oct. 24. Representatives for Obama referred questions to the U.S. Secret Service. The third was apparently addressed to former CIA Director John Brennan and was discovered at CNN's New York offices later on Wednesday, leading the newsroom to be quickly evacuated. That afternoon, investigators confirmed at a press conference that the package was believed to contain a live explosive, as well as an unknown white powder, which is now being examined.
Once the news broke, many people took to Twitter to share their concerns, well-wishes, and even some theories behind what, exactly, fueled the potential attacks.
Ivanka Trump and Donald Trump Jr. weighed in on the potential attacks, with the first daughter "strongly" condemning acts of violence against the politicians.
Trump Jr. also slammed the potential attacks, referencing similar incidents with some of his family members, such as President Donald Trump and his estranged wife, Vanessa Trump.
...But the posts didn't go over all that well. Many people placed the blame on President Trump's fiery verbal attacks on Democrats and the media. The White House did not respond to Elite Daily's request for comment on the president's rhetoric.
The incidents come just two days after a similar package, reportedly containing a pipe bomb, was found at the home of liberal donor George Soros, fueling concerns that prominent Democrats might be getting targeted. For now, however, the answer is still unknown, as the matter is still being investigated.
Though the incident has yet to be resolved, at least Clinton appears to be taking it as best as she can. That's got to take a lot of bravery.