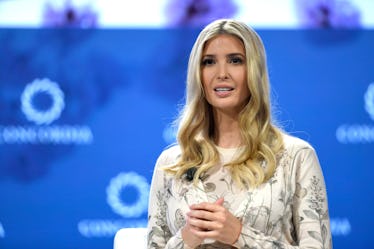 People Are Calling Out Ivanka Trump's Tweet About Suspicious Packages Sent To The Clintons
Riccardo Savi/Getty Images Entertainment/Getty Images
Like many others, Ivanka Trump took to Twitter on Wednesday, Oct. 24, to weigh in on startling reports that "potential explosive devices" were sent to former President Barack Obama and Hillary Clinton, as well as the offices of news outlet CNN and others earlier that morning. Elite Daily reached out to the representatives of the Clintons for comment, but did not immediately receive a reply. Representatives for the Obamas referred questions to the U.S. Secret Service. However, Trump's tweet didn't go over to well. The negative reaction to her post was swift, with many people pointing out some serious irony in Ivanka Trump's tweet about suspicious packages sent to the Clintons and Obamas.
In a message shared to her Twitter late Wednesday morning, the first daughter strongly condemned the potential attempted attacks on Obama and Clinton, writing that they are inexcusable and that America "is better than this." Her full tweet read:
I strongly condemn the attempted acts of violence against President Obama, the Clinton family, @CNN & others. There is no excuse—America is better than this. Gratitude to the @SecretService and law enforcement for all they do to keep this nation safe.
While the tweet itself is perfectly fine and appropriate — it seems to come from the heart and is clearly intended to condemn violence — the context leaves something to be desired.
Perhaps what stuck out most to many was her father President Donald Trump's tendencies to celebrate violence and spew harsh rhetoric about Democratic figures, including both Obama and Clinton. Many people criticized President Trump for supposedly inciting violence with his rhetoric, and called out Ivanka Trump's tweet for overlooking her father's speech on the subject. The White House did not immediately respond to Elite Daily's request for comment regarding the president's rhetoric or Trump's tweet.
Some users referenced comments President Trump made at a rally on Oct. 18, in which he delighted in the body-slamming of a reporter. Elite Daily reached out to the White House for comment on the matter, but did not hear back by the time of publication.
The White House condemned the potential attacks in a statement, saying, "These terrorizing acts are despicable, and anyone responsible will be held accountable to the fullest extent of the law."
The Secret Service announced on Oct. 24 that it had intercepted two packages containing "potential explosive devices" addressed to Clinton and Obama. According to multiple reports, the package addressed to the former secretary of state was intercepted en route to her residence in New York the night before, while the package addressed to Obama was intercepted on Wednesday morning in Washington D.C. Per NBC, law enforcement sources believe the packages were similar to the pipe bomb found at liberal donor George Soros' home on Monday, Oct. 22, sparking questions of whether prominent Democrats were being targeted.
The Secret Service later shared a public statement about the devices, stating that neither package made it to the politicians and that the matter is still under investigation. The statement read,
The U.S. Secret Service has intercepted two suspicious packages addressed to Secret Service protectees. ... The packages were immediately identified during routine mail screening procedures as potential explosive devices and were appropriately handled as such. Both packages were intercepted prior to being delivered to their intended location. The protectees did not receive the packages nor were they at risk of receiving them. The Secret Service has initiated a full scope criminal investigation that will leverage all available federal, state, and local resources to determine the source of the packages and identify those responsible.
Also on Oct. 24, CNN's New York offices were evacuated after reports of receiving a suspicious device. In a press conference that afternoon, New York City officials confirmed that the device sent to CNN was believed to be a live explosive, and also contained a unidentified white powder. New York Mayor Bill de Blasio referred to the mailings as an "act of terror," and called on New Yorkers to "refuse to allow the terrorists to win." But he also offered up some serious concerns about the root of the potential attacks, telling reporters in response to a question about Trump's rhetoric, "This atmosphere of hatred is contributing to the choices people are making to turn to violence. There's no question about it." He added that toning down violent political rhetoric "has to start from the top."
Indeed. In the meantime, be safe, you guys.