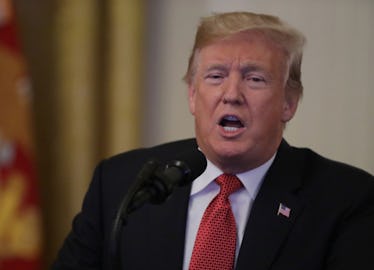 Twitter Went Off On Trump For Praising A Congressman Who Attacked A Reporter
Chip Somodevilla/Getty Images News/Getty Images
President Donald Trump really isn't a fan of the news media — so much so that at a rally on Oct. 18, he praised a congressman who confronted and body-slammed a reporter back in 2017. The moment drew immediate and widespread outrage, with many people calling out the apparent poor timing of his comments and the continuation of his attacks on the media. Seriously, these tweets about Donald Trump's comment on Greg Gianforte show just how appalled some people are at what he said. Elite Daily reached out to the White House and representatives of Gianforte for comment on the matter, but did not hear back by the time of publication.
According to ABC News, Trump was in Montana to support Matt Rosendale as he runs to replace Jon Tester in the race for the Senate. However, his praise of Gianforte was the highlight of the trip. Speaking at a rally on Thursday evening, Trump said, "Any guy who can do a body slam ... he's my guy," and made a gesture mimicking a person being body-slammed. The encounter Trump was joking about happened on May 24, when Gianforte assaulted a reporter at a campaign rally. He later pleaded guilty to misdemeanor assault for the altercation, and offered the reporter, Ben Jacobs of The Guardian, an apology. Representatives for Gianforte did not immediately respond to Elite Daily's request for comment.
Though Trump's remarks about the moment drew cheers and laughter from the audience, others were seriously upset, and many of them took to Twitter to condemn the president for the seemingly insensitive comments. The White House did not immediately respond to Elite Daily's request for comment on Trump's remarks.
Many people pointed out how the controversial comment came amid international furor over the alleged assassination of Saudi journalist and Washington Post columnist Jamal Khashoggi.
"Trump just hit a new low."
Others were stunned by the moment altogether.
You know it's bad when even British Prime Minister Theresa May chooses to weigh in on the subject. A spokesperson for May followed up with a statement to The Mirror, saying "violence or intimidation against a journalist is completely unacceptable."
The incident between Gianforte and Jacobs dates back to May 2017, when the politician was approached by Jacobs about a question on a health care bill. However, Gianforte responded to the inquiry by reportedly slamming him to the ground, an incident caught on audio by the reporter. According to The Guardian, Gianforte initially claimed that he was assaulted by Jacobs first, but changed his story and accepted blame shortly after. The next month, he pleaded guilty to a misdemeanor assault charge and was ordered to pay a $385 fine, complete 40 hours of community service, and complete 20 hours of anger management counseling. Representatives for Gianforte did not immediately respond to Elite Daily's request for comment.
As for Trump, attacking the media is pretty routine for him — verbally, at least. He's long called it the "enemy of the people" and blasted it as being "fake news" for publishing what he says is misleading and defamatory content. In December 2017, he even went as far as calling the media a "stain on America."
He's repeatedly made similar comments ever since. We'll see how this continues to unfold.