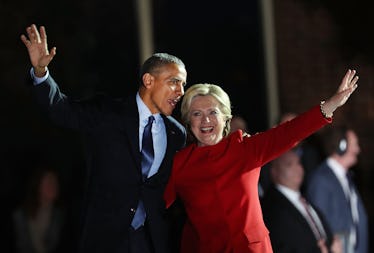 Twitter Is Appalled By Reports Of "Potential Explosive Devices" Sent To The Clintons & Obama
Spencer Platt/Getty Images News/Getty Images
Twitter was shocked on the morning of Wednesday, Oct. 24, when The New York Times reported that President Barack Obama and Bill and Hillary Clinton were sent what the U.S. Secret Service described as "potential explosive devices" earlier that morning. Elite Daily reached out to to representatives of the Clintons for comment, but did not immediately hear back. Representatives for the Obamas referred questions to the U.S. Secret Service. Seriously, these tweets about the Clintons and Obamas being mailed potential explosive devices show people are really, really upset — and with good reason.
Per the Times, a package sent to Clinton's home in Chappaqua, New York, was intercepted by the Secret Service on Tuesday, Oct. 23. The device addressed to Obama was intercepted the following day, Oct. 24, in Washington D.C. According to multiple reports, the devices are apparently similar to the pipe bomb found at billionaire philanthropist and liberal donor George Soros' home on Monday, Oct. 22, sparking serious concerns of whether prominent Democratic figures are being targeted. Clearly, some social media users think so, because many immediately flocked to Twitter to share their opinions on the matter — and a lot of them are blaming the potential attacks on increasingly heated political rhetoric about Democrats. Elite Daily reached out to the White House for comment on suggestions that political rhetoric has influenced acts of potential violence, but did not immediately hear back.
"Violent rhetoric leads to violent acts," one Twitter user declared.
Donald Trump Jr. followed up by condemning the move, referencing similar potential attacks on his estranged wife, Vanessa Trump, and his father, President Donald Trump. "This crap has to stop," he stated.
The White House also condemned the potential attacks in a statement, saying, "These terrorizing acts are despicable, and anyone responsible will be held accountable to the fullest extent of the law."
While it's still unclear who sent the packages and what their motives were, the Secret Service said in a statement that it had "initiated a full scope criminal investigation that will leverage all available federal, state, and local resources to determine the source of the packages and identify those responsible."
But there's more than just that. In addition to the devices that were sent to the politicians, a spokesperson for the New York Police Department told the Times that CNN's offices in Manhattan, New York, were also evacuated on Wednesday morning. The news channel had been in the middle of coverage of the packages sent to Obama and Clinton when it was forced to cut from its live broadcast after reportedly receiving a device "constructed with pipes and wires." The station ended up reporting on its own evacuation from the building as the NYPD removed the package. However, it's still unclear if it was considered a serious threat.
So far, there thankfully haven't been any injuries reported and it seems like police are working diligently to put an end to the potential attacks. Here's hoping they figure it out soon, and nobody is harmed.