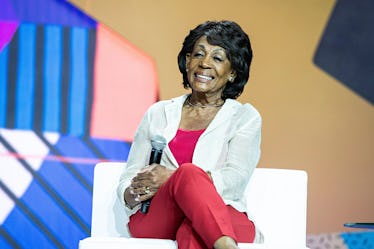 Maxine Waters' Clapback At The Suspicious Package Mailed To Her Is Bold AF
Amy Harris/Invision/AP/Shutterstock
If there's one thing you should know, it's that when it comes to being threatened, Maxine Waters never backs down. So, it's probably not surprising that she's clapping back against suspicious packages that were mailed to her on Wednesday, Oct. 24. But Maxine Waters' response to the suspicious packages mailed to her is a scorching message like you've never seen before.
Though mail facilities in Maryland and California intercepted the packages before they arrived to Waters' office in Washington, she still had a lot to say about finding out she was a potential victim. In an Oct. 25 interview with Blavity, the fiery congresswoman boldly hit back at the potential attack, telling the outlet, "I ain't scared."
"We have to keep to doing what we're doing in order to make this country right; that's what I intend to do, and as the young people say, 'I ain't scared,'" declared Waters.
She also urged President Donald Trump to "take responsibility for the kind of violence that we are seeing for the first time in different ways," seemingly referencing multiple suspicious packages that were mailed to prominent Democrats earlier in the week, including President Barack Obama, Hillary Clinton and others. "I think the president of the United States has been dog-whistling to his constituency, making them believe that their problems are caused by those people over there," she added, referencing Democrats. The White House did not respond to Elite Daily's request for comment on the president's rhetoric. To summarize, Maxine Waters is downright over it.
Her remarks came in the wake of a series of "potential explosive devices" that were sent to prominent Democratic figures throughout the week of Oct. 21. On Friday, Oct. 26, authorities found packages addressed to Sen. Cory Booker (D-NJ) and former U.S. Director of National Intelligence James Clapper. Per NBC News, the package addressed to Booker was discovered at a mail facility in Florida, while the package addressed to Clapper was intercepted at a postal facility in New York.
Similar packages addressed to Joe Biden, who has openly feuded with Trump, and actor Robert De Niro, who has also publicly criticized the president, were also discovered on Thursday, Oct. 25 in Delaware and New York, respectively. Authorities have said the packages are similar to devices that were sent to news outlet CNN, President Barack Obama's Washington D.C. residence and Hillary Clinton's New York home on Wednesday, Oct. 24, as well as a device that was sent to liberal donor George Soros' home on Monday, Oct. 22. Elite Daily reached out to representatives of Clinton and Biden for further comment on the potential attacks, but did not receive a reply. A spokesperson for Obama referred questions to the U.S. Secret Service.
In a statement shared with Elite Daily, De Niro thanked law enforcement and called on people to use their own power — voting. He says, "There's something more powerful than bombs, and that's your vote. People MUST vote!"
Following the potential attacks, many have suggested that Trump's vitriolic rhetoric against Democrats is to blame. Elite Daily reached out to the White House for comment on suggestions that political rhetoric has influenced acts of potential violence, but did not immediately hear back. Though the White House later condemned the potential attacks, that didn't stop Twitter users from going in about them.
According to The New York Times, federal authorities investigating the matter reportedly believe the packages were sent from Florida. However, FBI Assistant Director William Sweeney declined to comment on the reports that the packages came from Florida during a press briefing in New York on Thursday, per The Hill. But as of 11 a.m. on the morning of Friday Oct. 26, a suspect is reportedly in custody. According to The Washington Post, more details are expected to be announced later in the day.
In the meantime, it's at least a little refreshing to see the potential victims handling this drama so well.