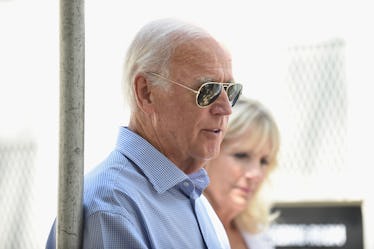 Another Suspicious Package Was Reportedly Addressed To Joe Biden
Bryan Bedder/Getty Images Entertainment/Getty Images
On Wednesday, Oct. 24, a number of suspicious packages addressed to prominent Democratic officials, as well as CNN, were intercepted by the United States Secret Service. Since, the FBI and other law enforcement teams have worked together in order to find those responsible for the devices. Well, on Thursday, Oct. 25, Joe Biden was sent a suspicious package making him the latest Democratic official to experience this scare, according to The New York Times.
According to The Times, a suspicious package addressed to Vice President Joe Biden was found at the U.S. Postal Service facility in Delaware early Thursday, Oct. 25. The package was reportedly suspicious due to the misaddressed envelope, which was similar to the package sent to former Attorney General Eric Holder the day prior. Elite Daily reached out to representatives of Biden for comment about the suspicious package, but did not hear back in time for publication.
In addition, another suspicious package similar to the ones sent to Barack Obama and Hillary Clinton was sent to actor Robert De Niro, who has been a vocal critic of Donald Trump. According to The Times, an X-ray of De Niro's package shows evidence of a potential explosive. In a statement shared with Elite Daily, a spokesperson for Tribeca confirmed that the suspicious package was addressed to De Niro and law enforcement was called immediately. The statement said,
A suspicious package was received. We called the police. They took it out and went through all safety procedures. It was addressed to Robert De Niro and is similar packaging to the others. It is an open investigation. Everyone is safe and the building is open.
As of Thursday, Oct. 25, 10 suspicious packages have been intercepted by the Secret Service addressed to Democratic officials and other individuals. The first was addressed to longtime Democratic donor George Soros, who was sent a suspicious package on Monday, Oct. 22. Then, on Wednesday, Oct. 24, a number of prominent Democrats, such as Barack Obama and Hillary Clinton, were sent suspicious packages that were intercepted by the Secret Service.
The recent string of packages is a frightening pattern happening in the United States right now. Not only have Democrats been receiving these packages, but on Oct. 24, CNN New York City offices were evacuated after a "potential explosive device" was found near their Time Warner headquarters. Since reports of these devices surfaced, a number of prominent government officials have condemned these violent attacks, and some have even pointed out a connection between those targeted and President Donald Trump's political rhetoric. Trump has frequently spoken in aggressive terms about Democratic politicians, as well as CNN, and many have speculated that his constant criticism may have exacerbated the situation and inspired these attacks. Elite Daily reached out to the White House for comment about Trump's rhetoric at the time, but did not hear back.
Following the evacuation at CNN, New York City Mayor Bill De Blasio spoke to reporters about the attempted attack, which he called an "act of terror." De Blasio also shared his opinion that today's tense political climate might have contributed to these packages being sent. He said in response to a question about the president's rhetoric,
In a time when there's a lot of hatred and division, it does not make sense to exacerbate it. This atmosphere of hatred is contributing to the choices people are making to turn to violence. There's no question about it.
Despite the horror happening in the United States right now, Trump's response to the suspicious packages was lackluster at best. First, instead of writing his own statement about the ordeal, he initially retweeted Vice President Mike Pence's lengthy tweet condemning the apparent attempted attacks. Then, later that day, Trump said that the "fake news media" is responsible for the tense political climate instead of his personal rhetoric.
No matter who's to blame or not, let's not forget that individuals could be at danger if these attacks don't come to a close. Stay alert, everyone.