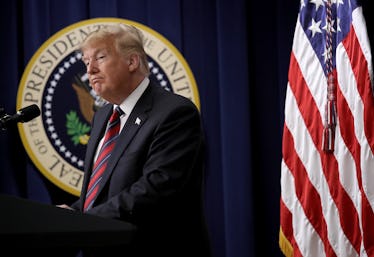 Donald Trump Didn't Even Write His Own Tweet About Those Suspicious Packages
Win McNamee/Getty Images News/Getty Images
On Wednesday, Oct. 24, The New York Times reported that the U.S. Secret Service intercepted "potential explosive devices" sent to Barack Obama and Hillary Clinton in the mail, along with packages sent to news outlet CNN and others. Since then, the public has been speaking out against these violent attacks, but some takes are more original than others. Just take Donald Trump's tweet about the suspicious packages as an example. Sometimes, less isn't always more.
On Wednesday, Oct. 24, Donald Trump took to Twitter to address reports of "potential explosive devices" which were mailed to Hillary Clinton and Barack Obama. Now, everyone knows that there are few things Trump loves more than sharing his thoughts on Twitter, but unfortunately his response on this matter was lackluster at best. Instead of providing a detailed statement about the suspicious packages, or sharing his opinions at all, Trump instead just "completely agreed" with Mike Pence's tweet about the devices, retweeting his vice president. Unlike Trump, Pence addressed the packages by condemning the perpetrator's actions and confidently declaring that those behind the violent attack will be brought to justice. Pence wrote,
We condemn the attempted attacks against fmr Pres Obama, the Clintons, @CNN & others. These cowardly actions are despicable & have no place in this Country. Grateful for swift response of @SecretService, @FBI & local law enforcement. Those responsible will be brought to justice.
For a man who's never afraid to say what he thinks, it's pretty unfortunate Trump decided to let someone else do the talking for him on this very sensitive subject.
The president later offered a statement in advance of a planned event on the opioid crisis at the White House, in which he briefly condemned the attacks and promised to bring to justice whoever has sent them. "In these times, we have to unify, we have to come together and send one very clear strong, unmistakable message that acts or threats of political violence have no place in the United States of America," he said.
According to the Times, the Secret Service confirmed that the package sent to the Clintons was intercepted late Tuesday, Oct. 23 in Westchester County, New York while the package addressed to the Obamas was intercepted early Wednesday, Oct. 24 in Washington, D.C. The Secret Service described them both as containing "potential explosive devices." Elite Daily reached out to representatives of the Clintons for comment about the packages at the time, but did not hear back. Representatives of the Obamas directed questions to the U.S. Secret Service.
In addition to the potential explosive devices sent to the Obamas and Clintons, CNN's New York City offices were evacuated on Oct. 24 after a suspicious package was found near the Time Warner headquarters. At a press conference, New York Police Commissioner James P. O'Neill described the package as a "live explosive device" which reportedly also contained an envelope filled with white powder.
Trump's underwhelming response to these violent attacks is disappointing to say the least, but especially since those who have recently received these suspicious packages have also experienced serious criticism from Trump himself. Many pointed out that Trump's own rhetoric, in which he has frequently verbally attacked Democrats and the news media — CNN in particular — may have exacerbated the situation. The White House did not immediately respond to Elite Daily's request for comment on the president's rhetoric.
Following the suspicious package found at the CNN office, New York City Mayor Bill De Blasio described the incident as an "act of terror." In response to a question about the president's rhetoric at a press conference on Oct. 24, he said,
In a time when there's a lot of hatred and division, it does not make sense to exacerbate it. This atmosphere of hatred is contributing to the choices people are making to turn to violence. There's no question about it.
No matter where which political party you may side with, violent attacks like these should never be condoned. Stay safe, everyone.