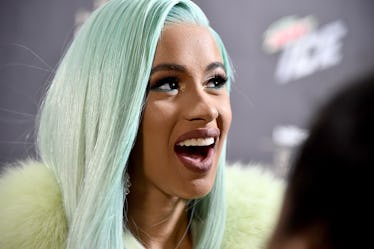 Cardi B Got Super Honest About The Effect Giving Birth Had On Her Body
Theo Wargo/Getty Images Entertainment/Getty Images
Cardi B is nothing if not real, you guys. The rapper has had a wild year releasing new music, announcing her marriage, feuding with Nicki Minaj, and of course, giving birth to her daughter and first child, Kulture Kiari Cephus. At the age of 25, Cardi B and her husband, Offset, welcomed their daughter into the world on July 10, 2018. Now, Cardi B is talking about what it was like having a baby. Cardi B's comment about the toll giving birth took on her body is so real (and so Cardi), I can practically hear new moms everywhere shouting in solidarity.
Cardi B stopped by Jimmy Kimmel Live to talk about going through labor and how she and her new baby girl are doing. Kimmel cut right to the chase and asked if giving birth was easier or harder than she thought it was going to be. Cardi responded, "It was totally harder. She broke my vagina."
Yup, she said that. Straight up.
Cardi continued, "Why nobody tells you about those things? Nobody told me they were gonna stitch my vagina! People just be like, 'Oh you know when you give birth, it's gonna hurt,' but no one tells you that like, 'your vagina!'"
Kimmel tried to make a joke about worrying about "stepping on a crack and breaking his mother's back," but if Cardi caught the reference she didn't let on. (Listen, Kimmel. We are talking about a queen's vagina here. We don't have time for your shenanigans!)
Despite the difficulties of labor, Cardi B says she is loving being a new mom and even joked she should have had a kid as a teenager. "This is what I was missing my whole life?" she said. The "Be Careful" rapper also said her daughter shares a lot of her own personality traits including her feistiness. "She's very feisty," she said. "She really is very demanding."
Cardi added, "My husband used to tell me like, 'Stop screaming and stop catching an attitude when you're pregnant because you're gonna pass that to the baby.' And, I did!"
According to Cardi, the delivery room was packed when Kulture arrived. Cardi told Kimmel everyone from her husband to her publicist was there. However, despite the labor party, Cardi prefers if she and Kulture can keep a low profile for now. Being famous has made it tricky for her to do "normal" things with her newborn.
"There's certain things that I want to do with my daughter — like, I want to go to the beach with my baby, I want to take a stroll down the street with my baby — and I can't because I don't know who's next to me and who has certain intentions," she said. Cardi added:
I don't want to show my baby out to the public right now. I want to protect her. I'm not mentally ready — paparazzi be everywhere, like, even in my *sshole. I would like to do normal things with my baby, normal things, but right now I gotta keep it very low key.
Honestly? Fair enough. You can catch her full interview with Kimmel below. Trust me, it's much more fun hearing her tell the story than reading it.