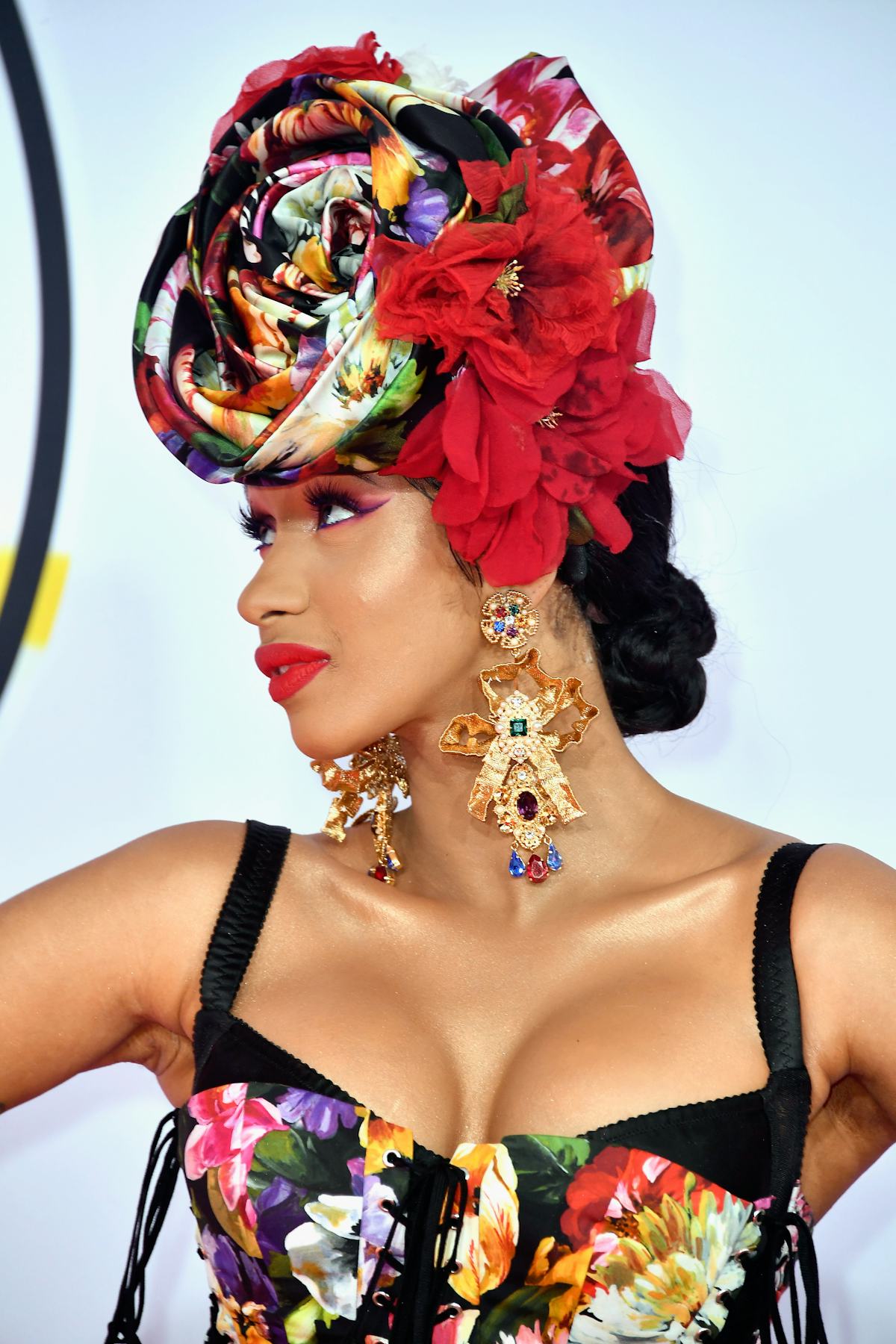 Cardi B's Look On The AMAs Red Carpet Is A Floral Wonderland & Your Garden Could NEVER
Frazer Harrison/Getty Images Entertainment/Getty Images
If you want to know how the American Music Awards are going so far, just know that I may or may not have printed out 20 pictures of Cardi B's 2018 American Music Awards look and hung them up around my apartment. Listen to me, there is not one look on tonight's red carpet that serves up a mood as big as Cardi's. Her entire aesthetic tonight is a floral wonderland, and, try as it might, your garden COULD NEVER.
The "I Like It" singer unequivocally stunned on the AMAs red carpet, slaying anyone in her path in a long floral-printed Dolce & Gabbana gown. The dress featured large, all-over floral print on a black background and 3-D, red tulle floral elements. It also featured a long, puffy skirt with lots of black tulle underneath, a thigh-high slit on one side and a lace-up, corset-style bodice with black straps.
In terms of shoes, Cardi wore black heels with a mirror platform and foot strap featuring a large pink flower. She accessorized the look with large, dangling, bejeweled gold earrings that high-key make my ears hurt just look at them — but only the best for Cardi. With this look, I can hear garden club members everywhere quaking in fear.
Cardi's beauty look is yet another sight to behold in and of itself. The rapper went for a a pink and purple eyeshadow look, with a thin, yet incredibly fierce, eyeliner wing and huge, voluminous false eyelashes. She really took it home with a bold red lip and an all-over body shimmer. Seriously, I never knew that I needed this beauty look in my life, but now I'm absolutely positive I can't live without it.
OK, OK, it's time to talk about the real stunner here: Cardi's remarkable floral headpiece. The creation appears to include several red and pink fabric flowers, leaves, and the same material as her dress gathered and twisted into the shape of a flower as well. This headpieces takes this entire look to a whole other level few stars could ever rock so well. Fight me on that.
Cardi's floral headpiece only solidifies the fact that floral headpieces and accessories are having hot AF moment right now. I mean, we saw one on Rihanna for her British Vogue cover. We saw one on Beyoncé for her September Vogue cover. We saw floral accessories dominate the runway at New York Fashion Week. Let's just say, this is a moment that I hope never goes away.
A look like this can only mean one thing: Cardi B is out to win tonight, and with eight AMA nominations (Best New Artist, Best Pop/Rock Female Artist, Best Rap/Hip-Hop Female Artist, Best Song - Rap/Hip-Hop, Best Song - Soul/R&B, Best Collaboration, Best Social Artist, and Best Video), I'd say she's got a damn good chance of taking home multiple wins.
Anyway, don't mind me. I'm just gonna be working hard on my floral game so, maybe one day, I can get on Cardi's level.