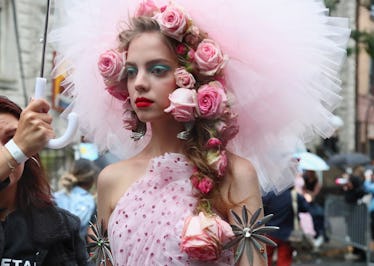 These Floral Hair Accessories Will Make You Feel Like A High-Fashion Fairy Princess
Astrid Stawiarz/Getty Images Entertainment/Getty Images
I remember pinning fake roses into my hair every few nights for ballet class when I was a little girl. I loved crafting intricate buns and adorning them with blooms, butterfly clips, barrettes—whatever I could get my hands on. If only my 12-year-old self could've seen the floral hair accessory trend that just hit the runways of Rodarte and Mansur Gavriel at New York Fashion Week — she would've said they brought her dream hairstyles to life. While impractical for twirling and leaping in, the accessories are a far cry from the stiff fabric ones dotted with fake drops of dew that I used to proudly wear atop my crown. These ones are ethereal, breathtaking, and, most importantly, real.
The magic of fashion week doesn't solely rest on the clothing that walks the runways or the street style stars that show up in their finest. It's also about the ambiance, the over-the-top scene setting, the emotions it draws out of you, and the ways in which each designer makes their fashion show their own. This is something Rodarte, a brand built by two sisters whose first foray into fashion was helping create costumes for the film Black Swan, know how to do so well. For the past two seasons they've brought a je ne sais quoi to Paris, having ditched New York Fashion week for its French counterpart. But now, they're back stateside and, as expected, they've brought that same I don't know what to the Big Apple.
While absolutely gorgeous, the clothing from their spring 2019 collection simply couldn't outshine the hair. French hairstylist Odile Gilbert was brought in from Paris to weave real roses into models' hair, creating braided lattices studded with buds and cascading locks dripping in petals. Metal crowns and birds also found their way into the works of art for an effect that looked like something from A Midsummer Night's Dream. It took Gilbert and her team a whopping five hours to perfect the hair of Rodarte's 48 models but I think you'll agree it was well worth their time.
Rodarte wasn't the only show that brought flower clips to life. Mansur Gavriel, the brand known for its much-loved leather bucket bag, also strung blooms into its models' hair, but in a much more subdued (and less time-consuming!) fashion. If you've ever picked English daisies and tied them into a flower crown, this approach might be more up your alley.
The tiny white flowers were places haphazardly through models' hair making it look almost as if they'd wandered in a field of the blooms, picked a few, and stuck them absentmindedly in their locks. It's a sweet and easy alternative to the sculptural creations at Rodarte but no less visually alluring.
If you've got an event coming up for which you want to bring a fresh (literally) new look to the table, consider following suit and turning your head into a mini garden party. And if a wedding is on the horizon for you weaving flowers into your hair for your big day is an excellent way to make it feel ultra romantic.