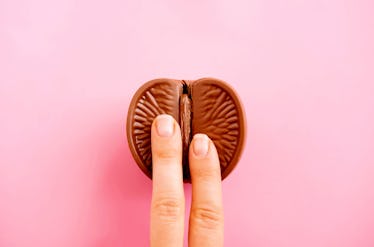 9 Ridiculous Things We All Need To Stop Believing About Our Vaginas In 2018
Shutterstock
The vagina is a beautiful, but oftentimes misunderstood part of the body, and one that tends to be the subject of many myths and rumors when it comes to its inner (and outer) workings. Even those of us who have a vagina are often subject to the same confusion as a result of what truly amounts to vaginal fake news. Can your vagina get loose from "using it too much," you may ask? Is it supposed to look like the vaginas I see in the movies? And for goodness' sake, shouldn't I already know the answers to these questions by now?
Whether you have a vag yourself or you simply love someone who has one (or both!), you've likely asked yourself these, and many other similar questions. Fortunately, I am here to provide you with a list of things to stop believing about your vagina in the new year. I'm declaring right here, right now, that 2018 will be the year you are going to let your vag flag fly, and free it from all those ridiculous and much-too-common stories about everyone's favorite private part.
So go forth and dispel all that misguided information and spread vaginal truth, my friends. Remember, it's always encouraged to ask a pro (aka an OBGYN) a few questions, but hey, if you already have, you can always do a little hands-on research too, if you catch my drift.