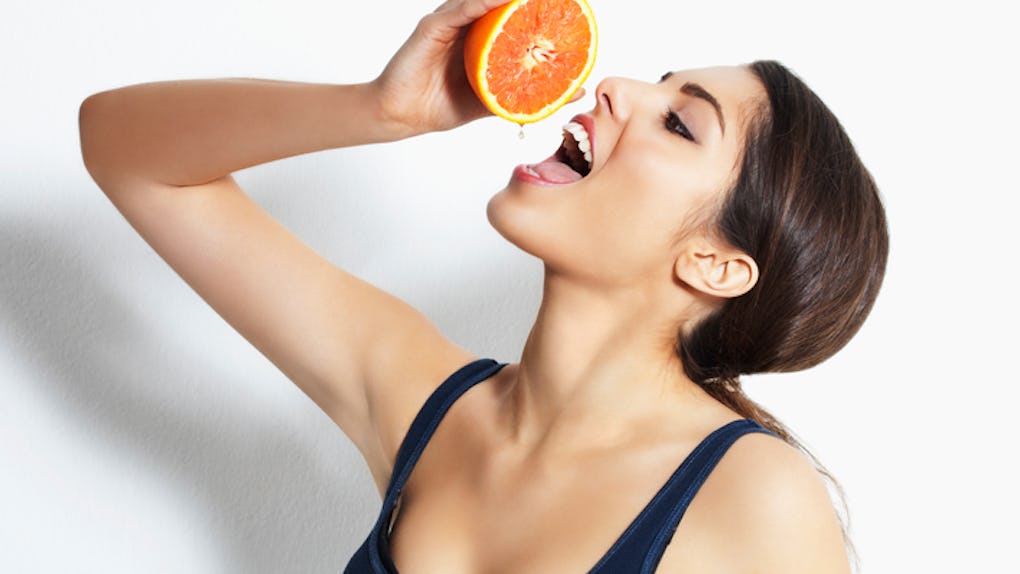 Hugh Sitton
Does Pineapple Make Your Vagina Taste Better? 7 Foods That May Change What You Taste Like Down There
First of all, let it be said, whatever your vagina tastes and smells like, is great. Think of your taste down there like a fingerprint or a little piece of your DNA: It's something totally unique to you, which is pretty awesome in and of itself when you think about it. But it's definitely interesting to think about the fact that there are certain types of foods and beverages that can potentially alter the chemistry and pH level of your lady part juices. For example, does pineapple make your vagina taste better? Well, there's not exactly a simple answer. To some extent, the effect of what you consume on your lady parts does vary from person to person, and a lot of the "evidence" about this stuff is more on the anecdotal side of the spectrum. But if you're interested in experimenting and seeing how you can change what your vagina tastes like, there's no harm in giving it a shot — or, you know, a taste.
Again, experimenting or being interested in changing your taste and smell definitely does not have to be something you do in order to please someone else. But if you are doing it with your sexual partner's enjoyment in mind, that's totally cool, too. And it's worth noting that the taste and smell of all bodily fluids can be altered by your eating, drinking, and even smoking habits.
Of course, keep in mind that certain smells might be possible indications of an infection. If you're smelling something super yeasty (think bread dough) or really fishy, be sure to check it out with your health care provider.
But if you're simply down to just eat some tasty food and see how it changes what your vagina tastes or smells like, let's get down to it. Remember, most of these are based more on anecdotes than real science, so take it with a grain of salt.