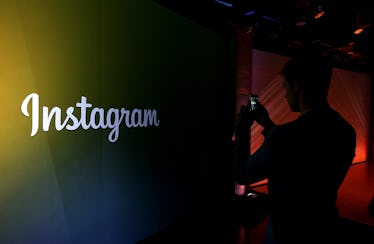 You'll Be Able To Download Pics From Instagram Soon & It's About Time
Justin Sullivan/Getty Images News/Getty Images
In a wave of new changes hitting Instagram recently, the social sharing app has confirmed the news that you'll soon be able to download a copy of everything you've ever shared on Instagram. Finally, amirite? The upcoming feature will give you the capability to download your favorite Instagram content that you've posted. I can't confirm exactly when you'll be able to download your Instagram photos, but apparently, the tool is coming soon.
Elite Daily reached out to Instagram about the upcoming feature, and the company tells us, "We are building a new data portability tool. You'll soon be able to download a copy of what you've shared on Instagram, including your photos, videos and messages."
While there aren't many details out yet about the not-yet-released Instagram feature, representatives at the California-based company said the high level overview is that it will allow you to download anything that you've shared on Instagram over the the years. It's about time.
I have to admit that "data portability tool" isn't exactly a sexy name for a new feature — but nonetheless, it's a useful and welcome addition to the Instagram app. This could be good news if you have never properly backed up the photos and videos that you've uploaded to your grid. Maybe you want to share that photo of your bestie to send her happy birthday vibes, but the only place it lives is on Instagram. What are you to do? The struggle is all too real.
Instagram does offer an autosave feature in the app's settings that lets you save your published Instagram Stories to your camera roll. But let's be real, how many of us actually have that feature turned on? I don't know. So instead of taking screenshots of your favorite photo memories, you'll soon be able to download them directly to your computer. Or if you're simply just curious to keep tabs on your Instagram data all in one place, this feature is for you.
The news of Instagram's data portability tool, first reported by TechCrunch, comes on the heels of social media users scrambling to download their Facebook account data in the wake of the Cambridge Analytica scandal, in which the data from as many as 87 million users was allegedly inappropriately taken, which was reportedly linked to the 2016 presidential election. On April 10, Facebook CEO Mark Zuckerberg said in a statement to Congress that the company is "improving the way we protect people's information and safeguard elections around the world." Cambridge Analytica said in an April 4 statement that the company "did not use any GSR data in the work we did in the 2016 US Presidential election." You might remember that Facebook bought Instagram for $1 billion in 2012, so it comes as little to no shock Instagram would create data portability tool for its users.
It is also worth mentioning is that the news comes just a little over a month before the European Union's implements the General Data Protection Regulation on May 25. As a part of the new regulation, the longstanding political partnership among 28 European countries will require sites like Facebook and Instagram to allow users the option to view and download their personal data they've shared on the social media sharing apps. Zuckerberg told Congress on Wednesday that those privacy controls will be made available globally, but did not elaborate on details.
While you're on standby waiting to download your information, check out some of Instagram's other recently launched features including the Focus camera tool. Say goodbye to the days of subpar selfies and hello to professional-quality portraits. You can find the newly built-in feature by opening the camera tool and selecting "Focus." The setting produces a crisp image of whatever is in focus while blurring the background. This works in both the front and rear facing camera modes, as well as for video. Think of it as very similar in function the Apple's Portrait Mode for iPhones.
There's also speculation that Instagram is about to push out a Nametags feature that is along the lines of Snapchat's Snapcodes. The company confirmed to Elite Daily that they are indeed in the testing phases of the Nametags function, but were mum on any additional details surrounding the tagging tool.
So while I patiently wait for the release of the data portability tool to download all of my data from Instagram, I'll be over here snapping some of the finest selfies I've ever taken.