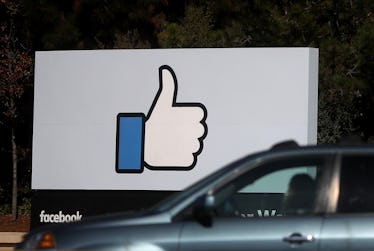 Your Phone Call History Is One Type Of Data That Facebook Can Store About You
Justin Sullivan/Getty Images News/Getty Images
That Facebook collects data about its users has never exactly been much of a secret. But the recent cloud of controversy hovering above the company — sparked by a wave of reports about how different companies partnered with Facebook to access data — has made one question more relevant than it had been previously. Exactly what data does Facebook collect?
The answer has shocked some people.
One of those people is Mat Johnson, a professor at the University of Houston and author of multiple books. On Friday, March 23, Johnson shared his reaction after receiving a file of literally all the data Facebook collected about him.
"Oh wow my deleted Facebook Zip file contains info on every single phone cellphone call and text I made for about a year — cool totally not creepy," Johnson tweeted. He followed up with a second tweet that listed instructions on how to view one's respective file of data that Facebook has been collecting.
"Download your Facebook account .zip off their site, unzip it, then go to the HTML folder, open the contact_info.htm file. See records of who you've talked to on your cell—not with the app, just on your regular cellphone—and for how long," Johnson tweeted.
On March 25, Facebook wrote in a blog post that phone call and SMS history are not logged without a user's permission. "Call and text history logging is part of an opt-in feature for people using Messenger or Facebook Lite on Android. This helps you find and stay connected with the people you care about, and provides you with a better experience across Facebook," the post reads, adding that you can turn off the feature, which would delete the history.
Johnson was dead-on in both of those tweets. Facebook can and has collected records of records of its users calls and texts, most notably from users of Android phones. That much was made clear by not only Johnson's tweet, but also by a story from tech news site Ars Technica, which published a detailed report about how Facebook stores call and texting data of Android users.
In a statement to Ars Technica's report, a Facebook spokesperson responded, "The most important part of apps and services that help you make connections is to make it easy to find the people you want to connect with. So, the first time you sign in on your phone to a messaging or social app, it's a widely used practice to begin by uploading your phone contacts."
Sean Gallagher, the journalist who reported the Ars Technica story, found that, among others, his own call and text records had been stored by Facebook. A screenshot of a file with the data Facebook collected about users shows that the company has records of a number of facts: the types of calls a user makes (incoming or outgoing), the duration of the call, the person on the other end of a call or message, and the time at which each exchange of communication was made.
The Ars Technica report and Johnson's tweet are part of a news and media trend: A bunch of people are sharing stories and social media posts about how much data they claim Facebook has collected on them. These stories are largely made possible because Facebook allows all users to download a file that shows exactly what information the company collects.
But access to that file wasn't exactly a well-known feature. The feature is likely to become much more known now, however, especially because Facebook CEO Mark Zuckerberg has come out publicly to announce that Facebook will make it easier for users to see and "control" what data they share.
Zuckerberg wrote in a blog post on Wednesday, March 28,
A lot of you are asking how to control what information you share on Facebook, who has access to it, and how to remove it. We recently put all your privacy and security settings in one place called Privacy Shortcuts to make it easier to use. We're going to put this in front of everyone over the next few weeks. We're also going to put a tool with all the platform apps you've signed into in at the top of your News Feed so you can easily remove any apps you no longer use.
In a blog post about storing message and phone call info, Facebook said it "never sell[s] this data."
Beyond call and text records, there's other types of information that Facebook collects and shares with other companies, such as messages, events saved, and ad info. That, too, is detailed in the data files that Zuckerberg says the company is making easier to access.
After CNN tech reporter Sara Ashley O'Brien download her own data report, she found that her contact information was shared with several advertisers, and that Facebook stored messages between contacts, regardless of whether those contacts were "unfriended."
And despite Facebook's efforts to reassure users that "you are always in control of the information you share with Facebook," the fact remains that people have continued to be surprised when they find out exactly what data the company stores about them. And you may be, too, if you try.