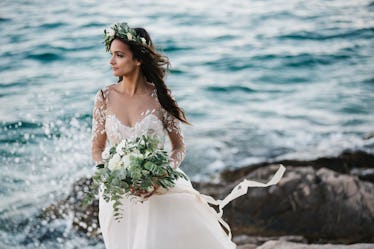 5 Women Share Why They Called Off Their Bachelorette Party Last Minute & It's Juicy
Bachelorette parties and drama go together like avocado and toast: They're a natural fit. Of course, there are many brides-to-be who have managed to have an epic bash sans stress. But with so many different personalities, preferences, and budgets to consider, it's only natural that a few headaches and hassles often arise throughout the planning process. It's nearly impossible to please everyone, after all. Which begs the question: Can you call off your bachelorette party last minute? It turns out, you can.
Speaking from experience, I can definitely say that the temptation to cancel is real. As the maid-of-honor for my best friend (and the chillest bride in history) last summer, I began eagerly planning the relaxing spa day she requested to recharge before the wedding. Not all of the bridesmaids were on board with this idea — even though I gently reminded them that it was the bride's day, not theirs. There was whining about the services I booked. There were complaints about the lack of typical bachelorette raging. There were absurdly long email chains arguing over the post-spa dinner plans. Fortunately, the bachelorette festivities were a success (after I had a stern talk with the sister of the groom), but let's just say I came dangerously close to scrapping the plans and begging my bestie to join me in a two-person celebration.
Apparently, I'm very far from alone in my frustrations — and some ladies do end up calling off the bachelorette party entirely. Here are their tales of terror.