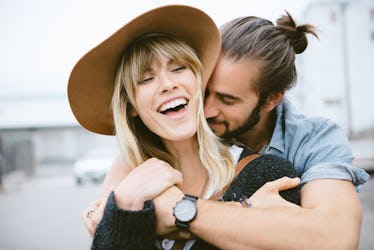 6 People Explain How Someone They Casually Dated Wound Up Becoming An Official SO
Perhaps you've witnessed it firsthand — either with friends or fictional characters in your favorite rom-com: Something that starts out as a one-night stand or friends with benefits arrangement takes a serious turn. So, can someone you casually date become your official partner? It seems that indeed, this is possible. But how does this happen? Does there have to be an official conversation at any particular point, or can things just evolve naturally without explicitly talking about it?
In a 2010 study by The Kinsey Institute, which asked 515 college-age people why they went into a hookup, 50 percent of women and 52 percent of men admitted that they were hoping it would trigger a long-term relationship. So clearly, just because someone seems to be looking for something strictly casual doesn't mean that they aren't secretly crossing their fingers for it to turn into something more. And fortunately, there are many cases in which a hookup buddy can lead to a happy ending. In fact, a 2010 study conducted at The University Of Iowa found that people who start by hooking up can build just as rewarding long-term relationships as those who take it slow and establish a connection before having sex. How reassuring is that?
But just in case you need further proof that it's totally possible for your hookup buddy to become your bae, here are a handful of casual-turned-serious relationship success stories.