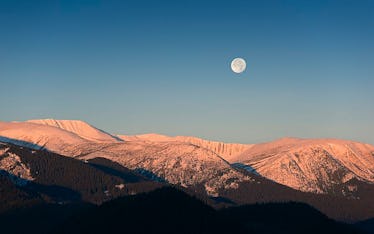 7 Ways To Make Self-Care A Priority When The New Moon Tries To Mess With Your Mood
As the moon orbits our planet, the positions of the Earth, moon, and sun create a cycle of lunar phases. We earthlings witness these phases simply by noticing how much of the moon we're actually able to see. All months have a new moon, all months have a full moon, and the cycle completes and repeats about every 29.53 days. New moons are believed to be a time when you can more easily manifest intentions or desires, which is totally rad. But one must wonder, while all this potential change is happening, can the new moon affect your mood or other aspects of your day-to-day life?
Also of interest, as the moon orbits, it spends time in the part of the starry sky where each sign of the zodiac resides. This latest new moon, happening on Dec. 18, will be in Sagittarius, meaning the lunar event will call for a bit of self-reflection about what exactly it is that we want out of life, especially as we move into a new year. On that note, keep in mind, too, that because this is the last new moon of 2017, it may be especially powerful in how it affects you.
So, if you've noticed your moods are feeling a little out of whack right now, you're likely not alone, and you can blame it, at least in part, on the new moon. But hey, you're an independent woman who don't need no new moon, so go ahead and take care of yourself with these seven strategies.